jonesjournal.org > newsletters > e-Mailer for 5/2021 * [versión en Español]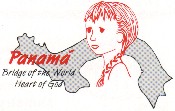 Dear Friends,

Greetings in Jesus on a rainy afternoon in Panamá! Not complaining -- it refreshes the air and greens up the land!
Thank you to each one for being a part of our prayer and financial support team! Aren't you glad that God answers prayer? Especially when He surprises us (if I can be honest enough to admit that…)! Here are a few examples of what I'm talking about: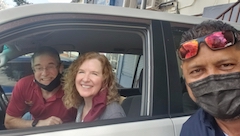 Reconnecting:
In the first photo you see Pastor Juan Barría, who we happened to bump into visiting our AG headquarters. A good friend for a long time, he was voted into national executive leadership and is spearheading training efforts for the AG of Panamá generational mentoring thrust (see following).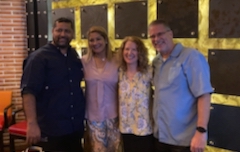 The second picture is from the time of fellowship following our visit to his church with his wife, and ministry partner, Roxana. Even with the severe restrictions during the pandemic here in Panamá, they have continued to exert a positive impact for the kingdom of God in the marginalized area where their church is located, which Pastor Juan himself calls a "red zone."
As a result of our visit to their church, Pastora Roxana later joined us to minister at a transitional center (see Amigo Mentor Panamá below), bringing along an interested sister from church. That is what I call a fruitful reconnection!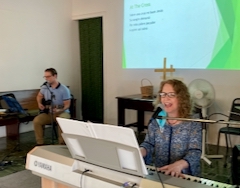 Being back in Panama, it was good to join good friend Pastor Bill Wilbur and his family in Gamboa for the Good Friday Service (bilingual). First in-person service back inside the building in a year! Yvonne and Tony led worship, and Kirk shared speaking duties with Pastor Bill preaching on Jesus' trial from Pilate's perspective.

Mentoring:

It is so gratifying to see that everywhere we look people are talking about mentoring. Our superintendent Rev. Johny Saucedo has made "pass the baton to the next generation" his ministry slogan. Pastor Juan, mentioned above, led several hundreds of us in an online training on the topic of "generational mentoring."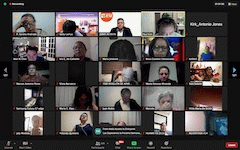 And the 4/14 Movement (Ventana 4-14 en español) is in the midst of a month-long online training across all of Latin America providing resource and inspiration for those of us who want to see the next generation transform their world. I was moved by the fervent closing prayer and captured several screen grabs. It is truly an exciting time to be involved in kids ministry!

What the Lord has placed on our hearts these past few years for kids ministry seems to fit perfectly: future fine arts training for students preparing them to minister using their God-given gifts and talents, plus the established Amigo Mentor Panamá program connecting believers with kids from hard places.

Amigo Mentor Panamá: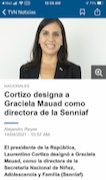 During our morning Bible reading, I looked up from the popup on my phone and blurted out to Yvonne, "Graciela is Director of SENNIAF!" Yvonne exclaimed, "WHAAAT?" Let me fill you in why that was such exciting news for us.
Following the bad news of mistreatment and abuse in orphanages here in Panamá, with subsequent closed doors for ministry, I reported in a previous e-Mailer that we are praying and "…believing that God can take the current negative political and media attention and transform it…" And He is doing just that!
From several candidates, President "Nito" Cortizo selected Graciela Mauad to be Director of SENNIAF (Panamá Child Protective Services, in charge of all orphanages). For many years she has worked as a lawyer advocating for children from hard places, facilitating adoptions and serving families in crisis with Heart's Cry Ministries. Plus she has been Yvonne's friend.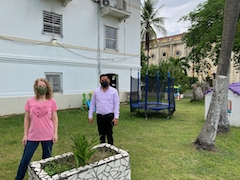 Thanks to her open door invitation, we are starting the Amigo Mentor Panamá program at a transitory center with Dr. Cristhian Guerra (pictured with Yvonne at the center's playground). Kirk shared the Bible story of the little lost lamb. We ask you to please join us in prayer for the exciting things surely to come!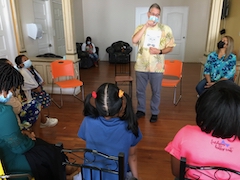 With these open doors that God has allowed us to walk through, my heart has been singing the kids camp chorus we learned from awesome kids camp speaker Susie Starr, "Rejoice For the Steps" based on Psalm 37:23:

The steps of a good man are ordered by the LORD,

And He delights in his way.

Psalms 37:23 (NKJV)


Closing prayer requests:

- Please pray that we find a place to live with training/practice space for ministry. We might have a winner -- pray for wisdom in closing the deal.

- Pray for new mentors to love on kids from hard places.

Reminder: we have updated much of our contact information. Kindly visit Contact Us page so we can keep in touch!


Blessings!


Kirk & Yvonne


P.S. If you prefer not to receive these e-Mailers, or happen to receive a duplicate, simply reply "remove" or "dup" and we will take care of it.




HOME | NEWSLETTER | MEDIA | PANAMA | FAMILY | PERSONAL | TEAMS | CONTACT US | EMAIL US