jonesjournal.org > newsletters > e-Mailer for 3/2021 * [versión en Español]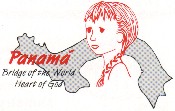 Dear Friends,
Greetings in Jesus FROM PANAMA! First time I get to write that in over a year.
Last month I struggled to expand my vocabulary beyond a mere "thank you." This month the word I want to amplify is "grateful." We are so grateful to the Lord and to you for your prayers and support for the following…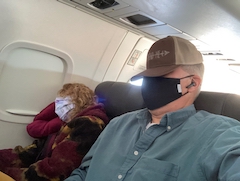 * …for a smooth return trip to Panama! Even the unknowns of Covid travel restrictions proved to be uneventful. Thank the Lord.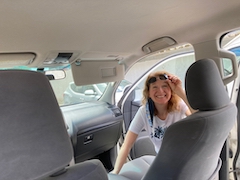 * …gratefully surprised that our car is not in as bad of shape as we thought it might be from lack of use. Repairs on a/c and maintenance upkeep are scheduled.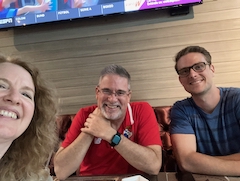 * …making re-connections: randomly while doing errands at the mall, intentionally by greeting our leaders at Panamá AG headquarters, and joyfully getting to be with our son Tony!
* …aaand following an urgent phone call from the Bible School storage, we are doubly grateful there was no air conditioner explosion, nor fire (like last time), where our household goods are stored waiting to resettle.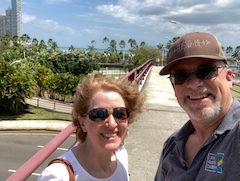 * …for temporary lodging downtown on the waterfront. Please pray with us as we look for the next place to live and minister.




For the past month, news of mistreatment and abuse in the orphanages has rocked Panamá news , social media, and even resulted in protest marches in the streets. It was sparked in part from an incident at the same care home where we have been ministering for years with the Amigo Mentor Panamá program. It is sad, sickening, but unfortunately not surprising. We are believing that God can take the current negative political and media attention and transform it to motivate His Church into providing positive long-term solutions that benefit the children.

As you pray with us, let us apply this OT account to this situation today. Following a supernatural victory by the Lord against the enemies of his people, the prophet Samuel (who by way of reminder was called by God as a child!),

"… took a stone and set it up between Mizpah and Shen and called its name Ebenezer; for he said, "Till now the LORD has helped us."
So the enemies (the Philistines) were subdued and did not again enter the territory of God's people (Israel.)
And the hand of the LORD was against His enemies (the Philistines) all the days of Samuel." (italics are my insert)

1 Samuel 7:12-13 (ESV)

In closing, please note updates for our contact info:

* VoIP phone remains ACTIVE: +1 (417) 595-4697.

* New Panamá cell phone #s ACTIVE: Kirk +507 6320-4446, Yvonne +507 6320-4441. These are now our WhatsApp #s as well (for you international savvy texters).

* US cell #s DEACTIVATED: Kirk +1 (417) 773-3838, Yvonne +1 (417) 773-1237.

* Official US address:

c/o AGWM, Acct #2254795

1445 Boonville Ave.

Springfield, MO 65802-1894

* US mailing address for courier delivery to us in Panamá (note: it costs us to receive):

Kirk Antonio Jones

Suite PTY 144, 7801 NW 37th Street

Doral, FL 33195-6503

Blessings!




Kirk & Yvonne


P.S. If you prefer not to receive these e-Mailers, or happen to receive a duplicate, simply reply "remove" or "dup" and we will take care of it.




HOME | NEWSLETTER | MEDIA | PANAMA | FAMILY | PERSONAL | TEAMS | CONTACT US | EMAIL US