jonesjournal.org > newsletters > e-Mailer for 5/2023 * [versión en Español]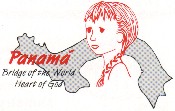 Dear Friends,

Greetings in Jesus from Panamá!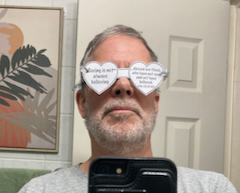 These brief ministry reports are made possible by your ongoing support in finance and prayer to our ministry among the precious people of Panamá. From start to finish, we thank you!
We continue teaching children using all means and methods possible. For the "Doubting Thomas" lesson theme "Seeing is not always believing," you can see I wanted to pre-test the craft for the Bible verse (John 20:29). Some kids loved pretending to not see, while others sneaked a peak from underneath.
At PAINT Church (Panamá International Church), Yvonne continues to serve on the worship team, playing keyboard and arranging vocals. They recently invited me to preach as well. Here's a short clip of the main point.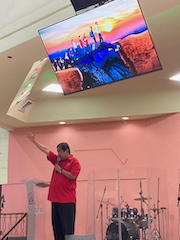 With our National Church we continue supporting the AD Kids training up children and youth to advance the ministry among their generation. At the recent Synergy workshop our President Rev. Johnny Saucedo illustrated how true servant leaders lay down their lives so that future generations can achieve even greater success.


Please join us in prayer that today's leaders, we will fervently and effectively "tell the next generation the praiseworthy deeds of the LORD" so that "they would put their trust in God" (Psalm 78: 4,7).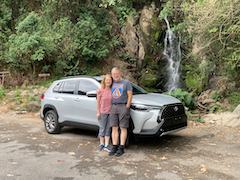 We close with a special "THANKS!" to the Southern California Network Missions support team for the generous contribution for our next vehicle! We chose a Toyota Corolla Cross. Thank you SoCal Network! You guys rock!

4 We will not hide them from their descendants; we will tell the next generation the praiseworthy deeds of the LORD, his power, and the wonders he has done….

7 Then they would put their trust in God and would not forget his deeds but would keep his commands.

Psalms 78:4, 7 (NIV)


We thank you! And may God bless you! Kirk & Yvonne

P.S. Minor delivery update: we no longer use MailChimp. Kindly update us with any future e-mail address changes to: kirk@jonesjournal.org. Thank you!

P.P.S. If you prefer not to receive these e-Mailers, or happen to receive a duplicate, simply reply "remove" or "dup" and we will take care of it.




HOME | NEWSLETTER | MEDIA | PANAMA | FAMILY | PERSONAL | TEAMS | CONTACT US | EMAIL US