jonesjournal.org > newsletters > e-Mailer for 12/2020 * [versión en Español]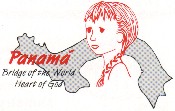 Dear Friends,
Christmas greetings in Jesus!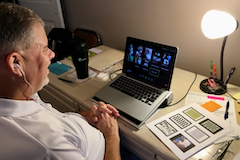 An early Thanks giving present (is that even a thing?) for me was being able to minister in Colón Panamá via Zoom meeting at a kidsmin convention. We have worked with Ligia Vega and team from Templo Renacer (Born Again Church) often in the past. We urged the children to "fix our eyes on Jesus" (from Heb. 12:2) using eye-tricking optical illusions.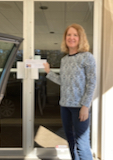 A new part of itineration ministry for us has been drop-in visits along the way to or from other churches. Either we drop off our material, like Yvonne is doing here, or get to meet the pastor in person. Often it results in a new ministry partnership via a service, or at a minimum an open door for increased communication.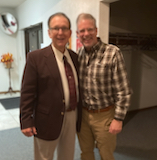 We are grateful for the flexibility of many of our pastors and churches who graciously rescheduled us after quarantine cancellations. Pastor Mick Thrasher and First AG Church in Saint James MO serve as a great example. They welcomed us back for a Wednesday night, sharing separately with the adults and kids, spread out in the sanctuary and the gym. Pastor Mick also serves as an example of faithfulness in ministry. After the service he regaled us with stories of God's miracles and provision over the many years here as well as at previous churches!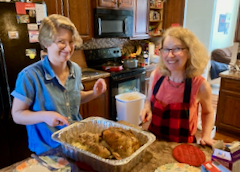 We trust you have been able to give thanks in all circumstances. We sure try to as well! We thank God for friends, family, and faithful supporters like you. And for being able to share turkey dinner with a brief visit from Grace.





¡We wish you all a Merry Christmas & Happy New Year! For our extended Christmas and New Year wishes, we invite you to check your mailbox for our Holiday Issue Newsletter arriving later this month. Or you can see the online edition here. In it you will see an important announcement, which you will probably figure out in a moment.

Final fundraising progress report update:

* WAS: $2,000; NOW: $0 in new monthly support still needed—PTL!!

* WAS: $27,000; NOW: $0 cash budget lacking—PTL! Thanks to your faithfulness and generosity! Now we are "saving up" toward the $50,000 Ngobe camp infrastructure project.

We promise a family picture next issue after enjoying the Christmas holidays with all six of us together again.


Blessings!


Kirk & Yvonne

P.S. If you prefer not to receive these e-Mailers, or happen to receive a duplicate, simply reply "remove" or "dup" and we will take care of it.




HOME | NEWSLETTER | MEDIA | PANAMA | FAMILY | PERSONAL | TEAMS | CONTACT US | EMAIL US