jonesjournal.org > newsletters > e-Mailer for 1/06
Dear Friends,
Greetings in Jesus! If you'd like to read past issues, click on Newsletters. This monthly e-Mailer includes updates on ministry, family, praise and prayer.
I need to submit a correction to our e-Mailer for 12/05. I wrote about my trip with Pastor Julio Valdés to Paola KS Assembly of God church: "This missions-minded church donated a 40 foot shipping container full of rice, beans, and home-grown corn for distribution at the upcoming Retreat." It's true the church did donate a ton of corn and other things for the Guaymí Family Retreat, but it is Convoy of Hope, with help from Rev. Kent Moody, former Panamá AG missionary, who donated the container, rice, beans, pasta, fruit, a boat, plus the $4,000 to ship the entire load to Panamá.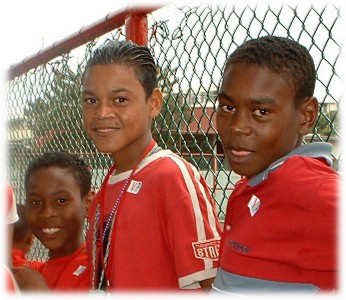 Please pray for ministry at the upcoming Guaymí Family Retreat 13-17 February. Pastor Roy Rhodes and 15 team members are returning to minister and distribute food and supplies.
Thank you for all of you who prayed with us for these events:
* Stadium Christmas Crusade in the San Miguelito soccer stadium December 10th.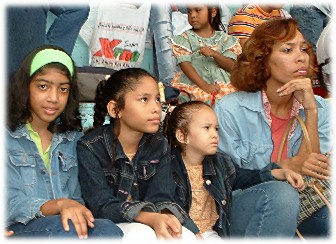 Last issue I wrote: "December begins dry season in the Tropics. We'd still appreciate that you include along with your prayers for many children to be saved, pray for no rain!"
Well, at least the first part of that prayer was answered! With the ministry truck stage extended wide open in the middle of the soccer field, it *downpoured* for about a solid hour. We all got pretty soaked, but after it quit we simply finished setting up and held the Crusade a couple hours late. Even with all that, over 400 children attended. The vast majority of them prayed to receive "the best Christmas gift ever -- Jesus!" Leaving after the Crusade every child received a copy of PowerMark Seeker Series comic book.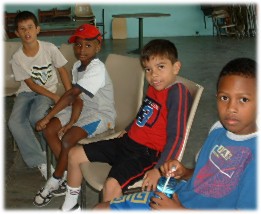 You can see and hear more in the online movie I just uploaded to our Media page.
* Retreat for children and grandchildren of our ministers 16-18 December.
We had a great time with our minister's kids/grandkids. They learned from David's life and example that God uses even little guys to do big things. They enjoyed games, snacks and Bible movies in addition to VBS-style classes.
* Ministry to minister's kids during Annual Session 8-11 Jan. Will report next issue.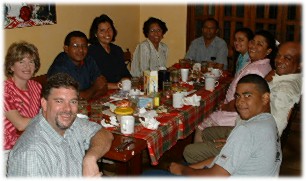 I also want you to know I am thankful for our team of Panamanian leaders, seen here at the Christmas dinner in their honor in our home.
I am embarrassed about our Christmas newsletter. If you received the print version, it was incomplete due to a printer's error. I know it's well past Christmas, but I invite you to see how it *should* have looked. (click here or go to our Newsletter page)
I want to be sure and include here part of what was left out there:
"Missionettes from our Southern California District blessed us with their Dimes to Dollars project fund. Just over $10,000 was given to remodel our ministry truck and to support construction at the Duíma LACC School. We'll provide a complete update next issue."
You can see the new paint job on the refurbished truck in the online movie, plus the new flooring and carpeting. We didn't have time to get the "¡Gracias!" painted on back with the Missionette logo, but we will. Plus the construction project in Duíma is still pending.
Please pray for our upcoming KidsQuest Crusade trip to the SW tip of Panamá in Jacú, near Puerto Armuelles. It's this weekend, 20-22 January.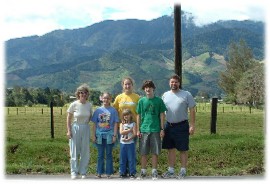 Our kids have a whole month off of school for Christmas vacation. We enjoyed a wonderful week in Volcán -- up in the cool mountains of NW Panamá. We fished, hiked, rode zip lines, biked, inner-tubed down rapids and rode horses. We laughed a lot and enjoyed being together. (Pssst -- if you want to see home movies, just let me know).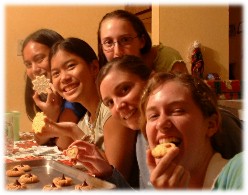 Chloe had her small group over to make Christmas cookies & have a good time.
Thank you for your interest in our ministry. Special thanks for all who prayed and paid throughout the past year to make this ministry happen. May God repay you richly.
GOD reward you well for what you've done--and with a generous bonus besides from GOD, to whom you've come seeking protection under his wings.
Ruth 2:12 MSG
Yours for Them,
Kirk for all
HOME | NEWSLETTER | MEDIA | PANAMA | FAMILY | PERSONAL | TEAMS | CONTACT US | EMAIL US