jonesjournal.org > newsletters > e-Mailer for 6/2019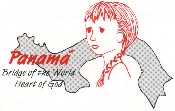 Dear Friends,

Greetings from SoCal for the first time in awhile!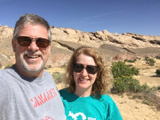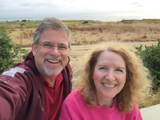 As we wrote from Panamá last e-Mailer, we arrived in Springfield, MO early May. We spent time with Chloe & Grace, bought a car, got US cell phone service, set up a transportable office, and hit the road. There is some beautiful scenery in this great land, samples here from Utah and the Pacific Ocean!

Thanks to Pastors, friends and churches who have welcomed us in Centennial, CO and in Fallbrook, Torrance, Temecula, Lomita, and Ventura CA. First service was with Sylvia & Loren Popineau. We met Sylvia (even before Loren did) on the "taste-and-see" trip to Costa Rica & El Salvador where God began our missionary journey. Reuniting with many long-term (not "old") friends and faithful supporters in prayer and finance.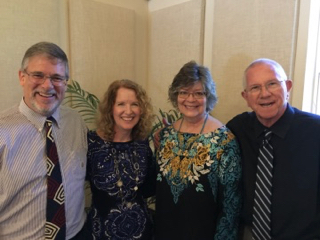 Southern California Network of the Assemblies of God celebrated 100 years of Missions. We are grateful to be a part of this movement for the past 36 years! It was wonderful to reconnect with many pastors & friends. Especially this very special group of Southern Californians whom Panamá loves—David Godwin (founding missionary), Dick & Jan Larson (pastored the first AG church), and their daughter Cindee Frenn.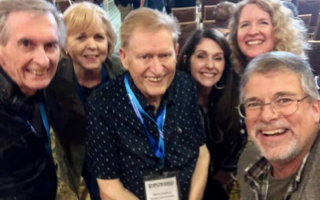 FYI: The cell phone numbers (Kirk cell: +1 (417) 773-3838 * Yvonne cell: +1 (417) 773-1237) are for itineration. The VoIP (+1 (417) 595-4697) stays permanent, even after leaving the US.


Many friends have asked how they can pray for us. We invite you to join us in these prayer requests:

· Safe travels while itinerating

· Raise monthly work support lacking about $2000; and work cash about $27,000

· A Holy Spirit-inspired missionary call to everyone with whom we minister during itineration, especially the children

· The special personal needs that pastors share with us when we ask

· Volunteer Children's Ministry team in Panamá with Directora Fanny de Quinzada

· Panamá's 4-14 Window Movement raising up kids ages 4-14 to become agents of transformation to their generation

· Futbol con Valores (Football With Values) in July across Panamá with 4 stadium matches including evangelistic halftime program

Thank you for praying!

The prayer of a righteous person is powerful and effective.

James 5:14b (NIV)




Kirk & Yvonne



P.S. If you prefer not to receive these e-Mailers, or happen to receive a duplicate, simply reply "remove" or "dup" and we will take care of it.



HOME | NEWSLETTER | MEDIA | PANAMA | FAMILY | PERSONAL | TEAMS | CONTACT US | EMAIL US