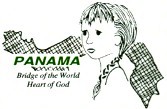 jonesjournal.org > newsletters > e-Mailer for 7/13
Dear Friends,
Hot summertime greetings in Jesus!
If you'd prefer you can read this e-Mailer online, or see past issues on "Newsletter" page at www.jonesjournal.org. This monthly e-Mailer includes updates on ministry, family, praise, and prayer.

A truly joyful part of itineration ministry is meeting with pastor friends. I had that pleasure getting to see Pastor Eric Fooks (New Life Assembly of God, California City) in order to catch up on each other's ministry and family and especially to thank him personally for the church's generous and faithful support. Even though their community has struggled through the economic downturn, they had given above and beyond the normal. I thanked him for that. He then shared this encouraging testimony, which he gave me permission to pass along to you.
As in most churches, attendance and offerings are usually larger for Easter Sunday and Christmas. Following last year's Easter Sunday service, the biggest of the year, Pastor Eric felt the Holy Spirit prompt him to split up all of that Sunday offering—tithes, offering and missions commitments—among the church's missionaries. "But Lord," he countered, "that's $3136 we need to pay the church's bills too!" His hesitation didn't last long, and he instructed the bookkeeper to divvy it up and write the check to Springfield AGWM.
The following Thursday he was alone in the office when he received a call from a woman who insisted she see him. She didn't want to wait to meet at a restaurant or other public place, so they finally agreed to talk in the church parking lot. She rolled down the passenger window, thrust an envelope in Pastor Eric's hand, and said, "God told me to give you this." Just as quickly, she drove off. Inside was a check for $3600.
Christmas and the following Easter service the church did the same thing! Pastor Eric and his church testify to what missionary statesman Hudson Taylor said: "God's work done in God's way will never lack God's supply."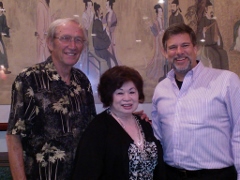 Before presenting this issue's prayer requests, I'd like to introduce you to some of our prayer partners. Pastor John McLaughlin and Calvary Assembly in Lomita, CA have a church with a missions heart. You see it in the dozens of flags of the world encircling their sanctuary year-round. You read it in the missionary newsletters they compile and circulate to their church members and their supported missionaries. You recognize it when they explain how individuals, couples and families choose a missionary family to be their prayer partners. I got to meet and spend some time with our prayer partners at lunch: Lloyd & Ceil Golden. What a treat.
Now, I know many churches do this, but I have to tell you that it was meaningful for me to be able to put a real face and name to the idea of "prayer partner." So I invite all of you "prayer partners" to please imagine that we are thanking you personally, face-to-face, just like I got to do with Lloyd and Ceil. Thank you for praying for the Joneses and for the children of Panamá!
Here are some things we'd like you to please pray for:
* 4-14 Window Movement promotion in Panamá. Pastor Nam Soo Kim of Promise Ministries, Flushing NY is interested in promoting the 4-14 Window Movement with our churches in Panamá. As I trust you got to see in our previous e-Mailer for 5/13, I met Pastor Kim and am trying to help facilitate communication from there (Panamá) to there (NYC). We are planning for him to speak to our 1000+ ministers at their annual retreat in July!
* Tony & Celina are both back home with us (it is awesome having all six of us under the same roof!) while taking summer classes (both with pretty heavy loads) and working full and part-time respectively. Pray for stamina, health and efficient use of time.
* Yvonne is touching music students' lives as professor at the School of Fine Arts (SOFA) at James River West campus. One student is a little girl who has leukemia, and recently underwent a hip transplant due to chemotherapy damage to the joint. The church has prayed for her in services. She is such a brave little trooper, all girl, and has a great attitude in spite of her sufferings.
* I am deep into preparations for next year as I serve as Missionary in Residence at Evangel University. Please pray with me that God will call many students to full-time missions service AND even many more to be full-time missionary senders for life, whatever their professional calling.
Thank you for praying for rain for Panamá. Rainfall returned to normal levels May and June replenishing the hydroelectric reservoirs. Electrical output is back to normal in Panamá. Sorry chicos (kids), no more partial days off from school to save electricity!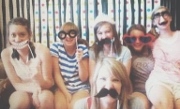 Our kids are doing well. Chloe and Gracie gave a surprise goodbye party for Hannah Parks, an MK to the UK. As people entered our house they had to put on a little crown to go along with the British theme of the party. The kids in their life group were all here to wish her farewell. She will be dearly missed.
Thanks for your support in prayer and finance. As always, feel free to call or write for a coffee appointment, a Window on the World, or a full missionary service, if we are not yet scheduled. See our contact info below.
In conclusion, I love it when my Bible readings and musings intersect with daily tasks.
Missions class prep…:
Missions is not the ultimate goal of the church. Worship is.
Missions exists because worship doesn't.
John Piper
…meets Bible reading…:
Let your servants see what you're best at-- the ways you rule and bless your children.
And let the loveliness of our Lord, our God, rest on us, confirming the work that we do.
Oh, yes. Affirm the work that we do!
(Psalm 90:16-17, The Message)
…and my musings…:
We are all created to worship. So everyone, all around the world, worships something. Life works best when the creature worships the Creator as He designed. Humankind's chief purpose is to enjoy God in His fullness. Not everybody knows that yet. So let's show them! That's Missions.
Kirk
P.S. If you prefer not to receive these e-Mailers, or happen to receive a duplicate, simply reply "remove" or "dup" and we will take care of it.
HOME | NEWSLETTER | MEDIA | PANAMA | FAMILY | PERSONAL | TEAMS | CONTACT US | EMAIL US