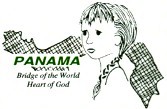 jonesjournal.org > newsletters > e-Mailer for 12/12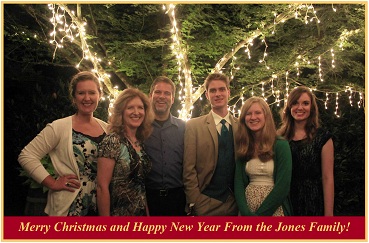 Dear Friends,
Seasons Greetings in Jesus!
If you'd prefer you can read this e-Mailer online [http://www.jonesjournal.org/ministry/e-Mailers/2012-12/e-Mailer_2012-12.htm], or see past issues on "Newsletter" page at www.jonesjournal.org. This monthly e-Mailer includes updates on ministry, family, praise, and prayer.
Our Christmas print newsletter is going out by mail this week. If you would like to receive one, please just let us know. Or you can also view it on our Newsletter page. In it I mention while it's true we need to raise cash and monthly support during a challenging economy, what really motivates us and is spiritually satisfying is seeing young lives sold out for Jesus. One young person has supported us as "his missionaries" for years now and I got to thank him face to face on a recent visit to his church. Another Kids Camper shared with us painful scars received from others' sin and personal bad choices right alongside of a newfound determination to follow Christ's call to become a missionary. That helps put the calling…, emailing…., and traveling… of itineration in a healthy perspective.
As always, feel free to call or write for a coffee appointment, a Window on the World, or a full missionary service, if we are not yet scheduled. See our contact info below.
Last e-Mailer issue after mentioning other AGWM missionaries who had a head-on collision, I requested: "We humbly request your prayers for traveling safety as well as effectiveness in our itineration phase of ministry." To those who did pray, THANK YOU! Please keep on praying!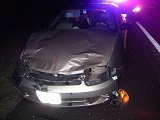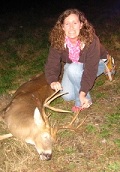 Shortly after that I received a call from Yvonne while I was away from home itinerating. She said they hit a deer. Since I had just seen a little fawn off to the side of the road I thought, "Bummer, they must feel bad. They hit Bambi." It turned out Chloe, Yvonne, Tony & Grace hit an eight point buck, that totaled Chloe's car. I am confident they are all OK thanks to the prayers of God's people. As a result of the accident, Chloe had to buy a new car. Praise God she has a good job that she loves—nursing.
Anthony is in his sophomore year at Evangel University. He has been a business major but will be changing to Elementary Education with a minor in Spanish and Teaching English as a Second Language. Maybe he'll end up in the mountains of Duíma, Panamá one day. Both he and Celina are hitting the books hard wrapping up the fall semester.
Celina is enjoying her first year at Pepperdine University even with the challenges of studying Chemistry and Biology. She has a work/study job tutoring pre-school kids, and gets to practice her Spanish with some of the parents.

Gracie is a freshman at Kickapoo High School. She's involved in a small youth group at James River Assembly West campus near our home. She went to a friend's birthday party where you can see they served the sodas with moustache-straws.
Ever since I heard Linus reciting the Luke Gospel account of the Christmas story in the Charlie Brown Christmas special as a little guy, I always enjoy reading the Christmas story. This season the Light-Life conjunction jumped out at me. During these holy-days my prayer is that the Light of Christmas brings Life in our hearts and through us to our world!
What came into existence was Life, and the Life was Light to live by. The Life-Light blazed out of the darkness; the darkness couldn't put it out. (John 1:4-5 MSG)
The people who sat in darkness saw a great Light; and Light has sprung up to those who sat in the region and shadow of death." (Matthew 4:16 MKJV)
With my own eyes I've seen your salvation; it's now out in the open for everyone to see: A God-revealing light to the non-Jewish nations, and of glory for your people Israel. (Luke 2:30-32 MSG)
Then Jesus spoke again to them, saying, I am the Light of the world. He who follows Me shall not walk in darkness, but shall have the light of life. (John 8:12 MKJV)
For so the Lord has commanded us, saying, "I have set You to be a light of the nations, for salvation (ie. life) to the end of the earth." (Acts 13:47 MKJV)
Yours for them,
Kirk for all
P.S. If you prefer not to receive these e-Mailers, or happen to receive a duplicate, simply reply "remove" or "dup" and we will take care of it.
HOME | NEWSLETTER | MEDIA | PANAMA | FAMILY | PERSONAL | TEAMS | CONTACT US | EMAIL US