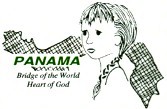 jonesjournal.org > newsletters > e-Mailer for 5/11
Dear Friends,
Greetings in Jesus!
If you'd like to read past issues, see Newsletters. This monthly e-Mailer includes updates on ministry, family, praise, and prayer.

Last issue we asked you to pray for a very special leader and friend here in Panama, Rev. Julio Valdes, before surgery to repair a ruptured vein, and then later have a kidney transplant. Our dear brother had complications following the surgery and is now in the presence of the Lord. Of the many jobs he filled, I believe he will be best known as a champion of missions—in Panama and around the world. In the Assemblies of God organization, several capable men are filling his various tasks. No one person could replace him. Please pray for his wife, daughter, two sons, their spouses, and three grandchildren who, along with us, miss him dearly. His life verse is:
And I will very gladly spend and be spent for your souls,
even if loving you more and more, I am loved the less. (2 Cor. 12:15 MKJV)

This month's Children's Ministries Leaders Seminar was last Saturday. I diligently prepared, but I honestly didn't feel a spark in my heart about what to share, like I usually do. I felt kind of guilty and asked the Lord what was wrong with me? As the day unfolded, I began to learn again I need to trust that the Spirit plans better than we do. He sent one of our national missionaries who ministers in Haiti, Itzel (pictured here while video plays), to our seminar today. God had spoken to her to go to the seminar, "just in case" she could share something. She ministered powerfully with a PowerPoint presentation from a recent missionary retreat in Dominican Republic, plus a personal report with pictures of her recent trip to Haiti. It followed up the missions video perfectly! One teacher summed it up, "I'm speechless."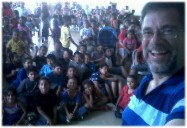 Last month's KidsQuest Crusade was in Forestal near Santiago, coordinated by our zone rep. Rigoberto Mitchell. The children were so enthused that they crowded up close for the Bible videos and later to get as close as they dared to CJ, our karate-chopping Bengal tiger host, and the rest of the crusade team. Our visitor campaign winners—Kelly, Abdias and Yoselin—brought eighteen visitors, plus all the other kids too. We added a training seminar Saturday evening for teachers from the local churches, led by Juan Carlos, Dallis, and me.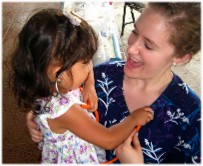 Our upcoming KidsQuest Crusade will be in Bugaba, Chiriqui, coordinated by our zone rep. Edilma de Villarreal. We ask for your prayers for travel safety and especially for many children and young people to be won for the Lord.
Thanks for praying for Chloe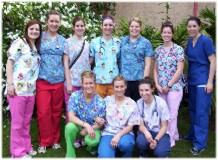 and the team of nurses and students from Evangel University & Cox College of Nursing that she brought to Panama. They hosted two separate medical clinics where they attended to almost 600 people. They toured a teaching hospital, received a lecture on tropical disease at the university medical school, took care of children two different days in the Malambo orphanage with Yvonne, visited Casa de Oracion church and medical clinic, ministered at PAINT church, and took a little time off at the beach.
If you'd like to see more mobile upload pictures of her trip, visit my facebook page. You'll also see some pictures from our recent KidsQuest Crusade. My facebook and twitter contact is the same: kirkajones. I post infrequently, so you won't be overwhelmed (and hopefully not underwhelmed either ;-).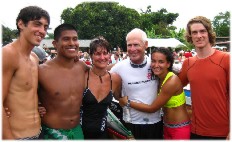 Last month Anthony and his Fas2Rass cayuco crew competed in the three-day Ocean2Ocean race, shown paddling here. It was very close competition in their mixed category. They won the last of the five segments and overall ended in second place. If it were possible, he would love to go pro in this sport. Special thanks to "coaches" Jay & Nancy, shown here celebrating after the finish along with crewmates Matias, Chacho, and Ana Carolina (L-R).

Celina is preparing for a return missions trip to Mancora Peru this summer. Dates are 22-31 July. Their ministry will focus on hosting a Bible Fun club for children and working with the youth of Cristo Es La Respuesta church. You can read last year's prayer letter here to see the ministry they will continue. She welcomes your prayers and consideration of financial support to raise $1250 by 10 July. Feel free to contact us if you are interested.

Gracie has been practicing long and hard on the piano, in addition to her violin lessons. She will be accompanying a friend singing a solo for the school's talent show this month. Here she snuck up on her friend who fell asleep during worship band practice.
Preaching on Good Friday, one of Jesus' seven last words from the cross really spoke to me. It was His answer to the thief.
"Jesus, remember me when you enter your kingdom."
He said, "Don't worry, I will. Today you will join me in paradise."
(Luke 23:42-43, The Message)
What this does not teach us is: Party now! -- Pray later. The commentator Matthew Henry said, "though it is certain that true repentance is never too late, it is as certain that late repentance is seldom true." What it does teach us is even at death's door it is never too late for saving faith to come alive. His faith earned him an immediate response. Jesus did not reply to the other thief's abuse; He did not acknowledge the multitude; yet to this sinner, who admitted it and acknowledged Jesus' kingship, He promised more than asked for--"Paradise!" And sooner than expected--"Today!" The penitent thief shows us that our great Savior forgives anyWHERE, anyTIME, and anyONE!
Yours for Them,
Kirk for all
HOME | NEWSLETTER | MEDIA | PANAMA | FAMILY | PERSONAL | TEAMS | CONTACT US | EMAIL US