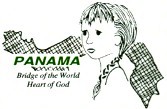 jonesjournal.org > newsletters > e-Mailer for 5/10
Dear Friends,
Greetings in Jesus!
If you'd like to read past issues, see Newsletters. This monthly e-Mailer includes updates on ministry, family, praise and prayer.
Allow me to apologize for missing last month's e-Mailer. We've had a month of stuff breaking down, starting with my computer, plus about 7 other things. Most are back or we're working around it. No complaints. We just chock it up to spiritual warfare. Aside from these unexpected malfunctions, it's been an exciting couple of months on both the ministry and family side of things.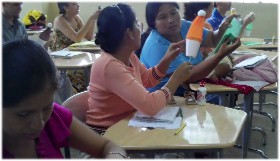 * Recent Children's Ministries Leaders Seminar had two emphases: First was puppet-making and manipulation led by Manuel Miranda. It has been a popular class we include each year. Second was motivating leaders with the worldwide 1 for 50 movement led by Pastor Andrew Edmonds. Gracie had participated in his CrossWalk discipleship program the past few years.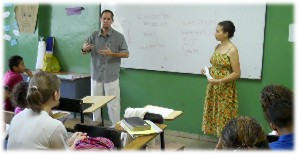 * KidsQuest Crusade for March was in San Juan de Dios, near Antón in central provinces. We had a much smaller attendance than normal. Accommodations for lodging and the Crusade were rustic. Strong winds prevented us from using our normal curtain for a stage--so the clowns came out from a door center stage at the open air community center.
Pastor Pedro Sanatamaria told me they have held several activities for children in this community, sponsored by his church in Anton about a half hour drive down the hill. Now the children are asking when they can have their own services! There is a hunger that mere religion just cannot fill.
This is a very traditional religious community. In most every home he visited, Pastor Pedro saw statues that the people venerate. That's why their strategy is not to argue about religion but rather to share Jesus. Please pray for this pastor of vision, his missionary-minded congregation and especially the kids ministry leaders who feel a call to reach San Juan de Dios for Jesus!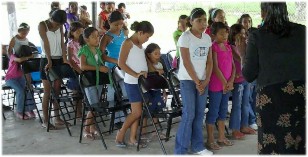 * The first weekend of April was the KidsQuest Crusade in Cañitas de Chepo. The coordinator for the church was our own Manuel Miranda, whose son Aaron has replaced him as our karate-kicking Bengal tiger "CJ." Their church has adopted this struggling pioneer work east of Panama City, located on the road to the Darién jungle.
When we first arrived the pastor looked at me intently and asked if I remembered him. I admitted his face was familiar, but not his name. "Elías," he said, and added that we went on a missions trip together to the Guaymí Indians when he was my student at the Bible school. Another "it's a small world after all" story. His wife Vielka is pictured here leading the children in salvation prayer during the altar service.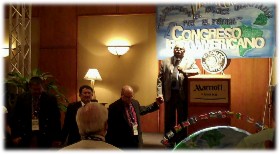 The last big event was last week: the Fourth IberoAmerican (includes Spain and Latin America) Missions Congress hosted this time in Panamá. Executives, national missionaries, pastors and leaders from the Assemblies of God in 22 countries came together for four days of reports, challenges and opportunity to respond to the Great Commission. The theme was "Celebrating the Advance - Challenged by the Future," seen here behind Rev. Gregorio Campos closing the event in prayer. He was one of Panamá's first missionaries, to Ecuador, and now is a pastor, executive, and serves on the National Missions Committee.
About 250 people came from outside of Panama. One of our tasks was coordinating ground transportation from airport to hotels. Close to 600 Panamanians attended, filling the main hall and overflow room of the Marriott. Yvonne's and my prayer was for God to call many of our lay Panamanian brothers and sisters to fulfill a world missions call on their lives. May they live out the slogan adopted at a previous Missions Congress, that says,
Missions is done with…
…the feet of those who go
…the hands of those who give
…and the knees of those who pray.
Please pray for these upcoming events:
- This weekend is the annual Deacons and Lay leaders retreat. I'll share a capsule on developing children's ministries in the local church along with leaders from Women's, Men's, Youth and New Convert ministries.
- Next KidsQuest Crusade is in the mountains of Chiriquí. We will reschedule it since it would have fallen on the National Census Sunday May 16th. Panamanian law states you cannot leave your house until you have been counted and filled out the multi-page form. I'm guessing that's a bit different from the census form you folks in the US mailed in.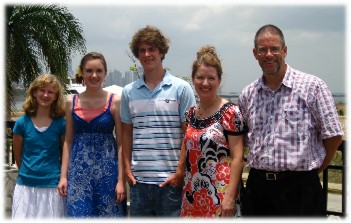 Here you see the family (almost all of us) after Easter Sunday morning service with the Bay of Panamá in the background.
* Yvonne has been joining a group of ladies from Panama International Church that visit an orphanage west of Panamá City. The orphanage is clean, safe and responsible, just under-staffed. The ladies started out by going simply to hold babies who don't get much human contact. After seeing the need, they provided school supplies, clothes and backpacks at the start of the Panamanian school year in March. Today she came home and said she felt like Octa-Mom, since she happened to be the only lady who was able to go and she was trying to attend to seven or eight infants.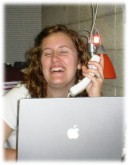 * Chloe is finishing the spring semester in her second year in Nursing at Evangel U. This week she landed a summer job at the Boys & Girls Club that's just across the street from the University. She will take five intensive classes during two summer sessions, and then come to Panamá to visit us for a few weeks before heading back mid August! With all her busy-ness, she still makes time to talk with her family. Thank God for VoIP!
* The big news for Anthony these past two months was the big race! The last weekend of March was the three day Ocean-2-Ocean cayuco race. The Carioca crew earned second place in their category. Here you see him with his teammates at the awards ceremony: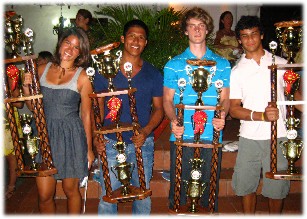 Carla, Chacho, and Gino (L-R). The trophy is proudly displayed in our living room.
* Celina has also been visiting an orphanage on Saturdays. It's near her school. She goes with a group of young people to play with the kids. Like mother like daughter. She also has been preparing and fund-raising for a summer youth missions trip to Mancorá Perú. Just like her sister Chloe did.
* Gracie is sporting a bright blue cast on her wrist--she broke it falling at school in PE. It hasn't stopped her from doing school stuff, playing piano (with a little difficulty) and producing a movie for school on the Greek myth of Theseus and the Minotaur. It stars Mom, Dad, Tony, Celina & our dog Rookie (as the horrible Minotaur monster that Tony "killed").
In preparing for the Deacons and Lay leaders retreat I read the account of a little servant girl who was used by God to minister to Naaman of Syria:
And the Syrians had … captured a little girl out of the land of Israel. And she waited on Naaman's wife. And she said to her mistress, I wish my lord were with the prophet in Samaria! For he would recover him from his leprosy. And one went in and told his lord, saying, This and this said the girl from the land of Israel. (2Ki 5:2-4 MKJV)
After his humbling and his healing, Naaman returned to Elisha and said,
Behold, now I know that there is no God in all the earth, but in Israel. (2Ki 5:15 MKJV)
May the kids we reach have the same effect on their families, neighbors and society!
Yours for Them,
Kirk for all
HOME | NEWSLETTER | MEDIA | PANAMA | FAMILY | PERSONAL | TEAMS | CONTACT US | EMAIL US