jonesjournal.org > newsletters > e-Mailer for 8/05
Dear Friends,
Greetings in Jesus! If you'd like to read past issues, click on "Newsletter" at www.jonesjournal.org. This monthly e-Mailer includes updates on ministry, family, praise and prayer.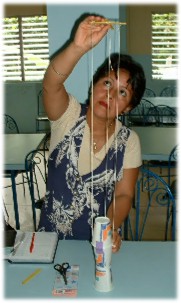 - US vacation: Please forgive that we didn't have a July issue of the e-Mailer. After our vacation, we hit the ground running, and I didn't catch up until too late in the month to send it out. I invite you to take a look at pics of our family in this month's photo album.
- Children's Ministries Leaders Seminars: We did more training in puppet making and manipulation, plus counseling pre-teens. We added a new Central Zone Seminar in Chitré mid June. That is the principle city in the Azuero peninsula, which is the big upside-down hump in the middle of Panamá's sideways "S." We returned to Chitré in July to hold a KidsQuest Crusade. Check out the pictures in this month's photo album.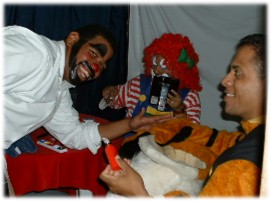 - KidsQuest Crusade Chitré: Our host pastor, Rev. Angel De Gracia, founded this church with a missionary evangelist over 20 years ago. And since then he has faithfully served there, in a very religiously resistant environment. He and his wife Isabel have ten children, all involved in ministry. His daughter Dorcas was the coordinator with us for the Crusade. We broke in a new "CJ" tiger for me to lend my voice to (I read the script backstage while CJ "talks" with the children). Ricky is seen backstage with Dallis (Ling) and Juan Carlos (Ding).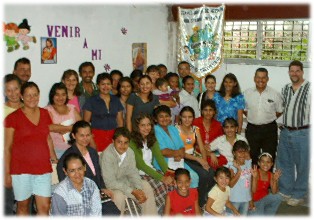 - KidsQuest Crusade Rio Serreno prep: This large group of leaders gathered in their church in Rio Serreno to meet with us to plan for a Crusade in their border community nestled up in the mountains right next to Costa Rica. I was surprised by the number of people who came to a planning meeting. We invite you to join with these enthusiastic leaders in praying for their KidsQuest Crusade 23-25 September.
- Minister's Retreat: All of our four kids are going to help me out during Panamá's annual Minister's Retreat starting today (7/31) through Wednesday (8/3). Unfortunately we expect a low attendance of children due to the government canceling the previously-scheduled two weeks of vacation. Please don't think the children are missing out on vacation. Actually, the students got four weeks of unplanned vacation during the social security reform riots. Read on...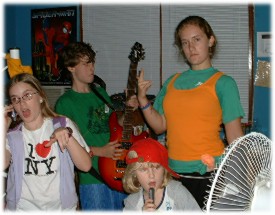 As we reported briefly in the June e-Mailer, Panamá's government is pushing social security reforms. A new law has been passed and riots ensued during June and July. We are safe and take precautions as necessary. Please continue praying for a just and peaceful resolution to this political conflict.
- Family: Here you see them as a wannabe rock band. Great summer entertainment!
Chloe translated for Focus on the Family's Brio missions trip again this year.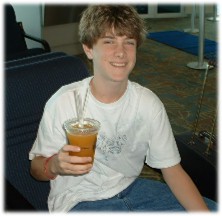 Anthony is enjoying a nice cold mango "chicha" (fruit drink) in the Panamá airport before heading north for vacation.
Celina turned eleven years old last month. Here she is enjoying part of her birthday celebration at the beauty shop getting a real, grown-up manicure.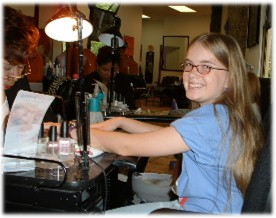 Gracie has been counting down the days to return school (like from 58!) and climbing the walls while waiting. Sometimes she's not the only one climbing the walls. ;-)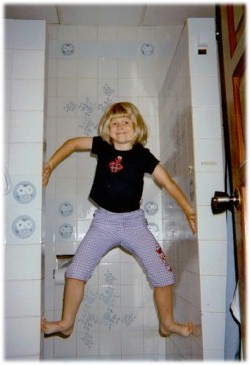 - Panamá 2nd Place Gold Cup! This may not have made much news where you live, but the fact that Panamá's soccer team came in second place (yes, to the US) in the America's Gold Cup was cause for national hysteria. See a couple pics in this month's photo album.
If you wake me each morning with the sound of your loving voice,
I'll go to sleep each night trusting in you.
Point out the road I must travel;
I'm all ears, all eyes before you.
Psalm 143:8, The Message
"Thanks" seems so small a word compared to the big gratitude we feel in our hearts to you who pray, and give and support in so many ways what God has graciously allowed us to do. We are grateful to the sound of His loving voice pointing out our road ahead. It's great travelling that road as part of this terrific team.
Please note our new VOIP US phone #: (626)-507-8044. It's free for us to receive calls (hint, hint) and very reasonable to call the US. Also, our Panamá PO Box # has changed:
Kirk Antonio Jones
Apdo. 0818-00282
PANAMA
Yours for Them,
Kirk for all
HOME | NEWSLETTER | MEDIA | PANAMA | FAMILY | PERSONAL | TEAMS | CONTACT US | EMAIL US