jonesjournal.org > newsletters > e-Mailer for 7/2019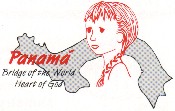 Dear Friends,


Greetings from the road, well, almost!

Tomorrow we begin the next big road trip. Includes stops in Irvine CA, Mesa AZ, Serafina NM, Sterling KS, Kansas City MO, and then staying in Springfield MO for a couple weeks before heading to Orlando FL for General Council and Together '19 missionary gathering. We appreciate your prayers for travel safety.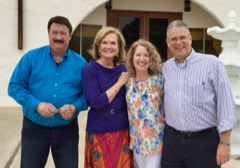 Part of the joy of itineration ministry is reconnecting with dear long-term friends, as well as making new ones. Before launching into missions, we ministered at First Assembly of God in San Ysidro where volunteer bookkeeper/office manager Cheryl Witt was the glue that held that precious little church together. Now it's a parent affiliate church with Imperial Beach South Coast Church under the visionary leadership of Pastor Craig Kruse who has become a new friend.


Another reconnection with dear friends was in Arroyo Grande LifePoint Church, Lead Pastor Kevin Gotchal. We were the first missionary family to live in their missions house. Bella Black (left), children's/missions pastor, showed us the certificate commemorating that fact on her office wall. Leslie Strausburg (right) was church secretary then. Her beloved husband, Mr. Bill (now with Jesus), built that missions house that we were privileged to enjoy twice. Great people from a great multi-site church!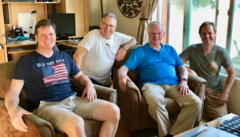 Also, part of that joy is reconnecting with family. For Fourth of July the four Jones boys got together with our families (L to R, Loren, Kirk, Norm & Tim). First time in 27 years all four of us together! I guess I'll take the blame for that long gap since we've been living outside the U.S. I love and appreciate these men, their wives & their terrific kids!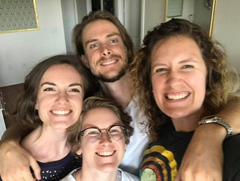 Speaking of reconnections, our four awesome kids met up in Houston. Tony flew up from summer break in Panamá. Grace flew and Chloe drove down from Springfield to join in the sibling celebration for Celina's 25th birthday!





I asked permission to share what Pastor Thomas Lamb (pictured at a community Day of Prayer photo credit) told us when we spoke recently. Needles First Assembly of God, where he has pastored 20+ years, in addition to supporting us financially, prints our names in the bulletin each week, prays for us weekly and posts each of these e-Mailer newsletters that you are reading right now. That news encouraged and humbled Yvonne and I more than we can say. What a privilege to serve with faithful partners like these choice servants!



Futbol con Valores (Soccer with Values) 4-14 Window Panamá outreach begins this Wednesday in Panamá and goes all through the month of July! Pray for churches to bring many youth and children to the four stadium soccer matches. Pray that many lives will be changed by the evangelistic halftime presentation. Pray that new young believers will be discipled and grow the kingdom of God in their communities across the Republic of Panamá!

Since returning to the U.S. for itineration ministry we have attempted to increase our social media postings. If you would like additional updates more or less on a weekly basis, you can follow us on our Facebook missionary page and/or Twitter.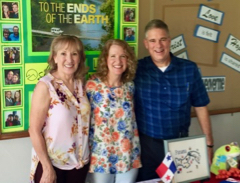 Fund-raising progress update: we are trusting the Lord & His people for needed additional funds:
$ 1,933 monthly
$ 26,397 cash





Not all progress is measured in dollars. Last Sunday morning at San Bernardino Community Church, Pastor Dave Carranza, we are pictured here with terrific missions coordinator Kay Stevens. At the close of my message, three people responded to the altar call for salvation. Reminds me of the old hymn, "There's a new name written down in glory; and it's mine, oh yes it's mine!"


We are scheduling services and appointments in the following areas: southwest Missouri, Charlotte NC, Pittsburgh PA, St. Louis MO, all of OR, the Front Range of CO, Northern and especially Southern CA, and more! Still have some open dates. Please give us a call if interested and anywhere nearby. We'll come to you!

I love you, O Lord, my strength.
The Lord is my rock and my fortress and my deliverer,
my God, my rock, in whom I take refuge,
my shield, and the horn of my salvation, my stronghold.
Psalms 18:1-2 (ESV)





Kirk & Yvonne



P.S. If you prefer not to receive these e-Mailers, or happen to receive a duplicate, simply reply "remove" or "dup" and we will take care of it.




HOME | NEWSLETTER | MEDIA | PANAMA | FAMILY | PERSONAL | TEAMS | CONTACT US | EMAIL US