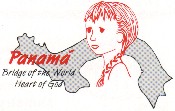 jonesjournal.org > newsletters > e-Mailer for 12/2018

Dear Friends,



Merry Christmas Greetings from Panamá! It IS the most wonderful time of the year! Even though I was drenched with sweat after hanging just one string of lights outside today. Enjoy your Winter Wonderland.

We mailed our Holiday Issue Newsletter print edition before Thanksgiving. For those who didn't receive it, allow us to express our thanks for your support in prayer and finance right now! And we invite you to read it here online, along with the included response card for itineration beginning May 2019. Or on Newsletter page.

(If you would like to receive our occasional print newsletters, please just send us your mailing address. Most people prefer this e-mail or online version.)

In addition to a little decorating, our getting ready for Christmas so far has included: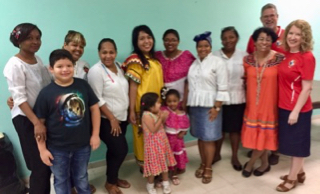 Celebrating Panamá's patriotic month of November with parades, marching bands, and demonstrating Panamanian pride dressed in typical patriotic costumes celebrating Panamá's soccer team (1st time World Cup!), rural interior and indigenous peoples.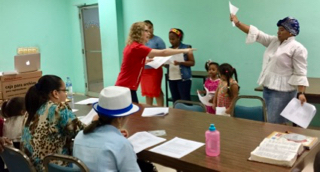 Yvonne leading the rehearsal of this year's Christmas musical drama. She wrote the script basing the characters on real life situations of families we know here in Panamá.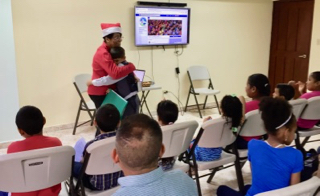 Celebrating Mother's Day (December 8) as Director Fanny hugs our child preacher Samuel after sharing his devotional honoring Moms. We continue to see kids trained to reach other children!




In the closing moments of the December leaders seminar, young Ramses (who doesn't know his biological mom) touched all our hearts when he asked permission to give a special Mother's Day gift to his spiritual mom, Lexaida.



She will bear a son, and you shall call his name Jesus,

for he will save his people from their sins."

All this took place to fulfill what the Lord had spoken by the prophet:

"Behold, the virgin shall conceive and bear a son,

and they shall call his name Immanuel"

(which means, God with us).

Matthew 1:21-23 (ESV)

From MININFAD Kids Ministries here in Panamá, and the Jones Family, we wish you a Very Merry Christmas and Happy New Year.


Kirk & Yvonne





P.S. If you prefer not to receive these e-Mailers, or happen to receive a duplicate, simply reply "remove" or "dup" and we will take care of it.

HOME | NEWSLETTER | MEDIA | PANAMA | FAMILY | PERSONAL | TEAMS | CONTACT US | EMAIL US