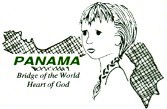 jonesjournal.org > newsletters > e-Mailer for 11/2017
Dear Friends,
Greetings in Jesus from Panamá, where some are still celebrating an historic first—Panamá Soccer is going to the World Cup 2018 in Russia!
If you'd prefer you can read this e-Mailer online, or see past issues on "Newsletter" page at jonesjournal.org. This issue includes updates on our life, ministry, praise, and prayer.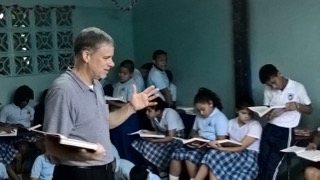 We joined with missionary colleagues Rod & Sherry Boyd in writing a study guide to help present The Bible in Action for grade schoolers of Panamá ChildHope (formerly Latin America Childcare). It's an attractive Bible in modern translation and includes practical study helps, plus full color comic depictions of many popular Bible stories.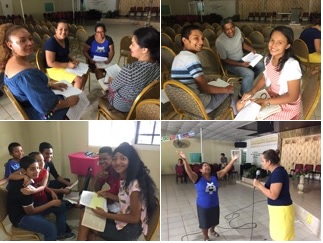 Last month (October) during missions month Kirk ministered with kids ministry leaders at Templo Misionero Cristo Te Llama ("Jesus is Calling You Missionary Temple"—it is a church with a big missionary vision!). The topic was Preparing Children for Missions Outreach. Part of the small group break-out session is pictured here as leaders worked together to improve Bible story-telling for effective impact.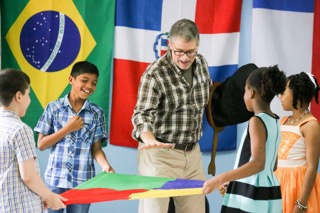 Then at Ministerio Familiar Cristiano Redención (Redemption Christian Family Church Ministry) these children were surprised how four separate colored silk handkerchiefs could unite into one big one. With that gospel illusion they learned how God through Jesus invites peoples from all countries, colors, and creeds to unite as one becoming members of His family.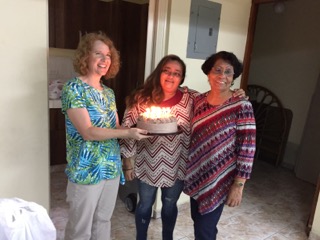 At our monthly kids ministry leaders seminar Kirk taught how to use key Bible verses for children to understand the importance of world missions and consider God's call on them to be a world-changer here in Panamá. Yvonne helped us all to celebrate our volunteer leaders Carolina and Fanny's birthday last month. For the upcoming Christmas season we also presented several programs, songs with motions, and dramas, along with free resources to help make them successful.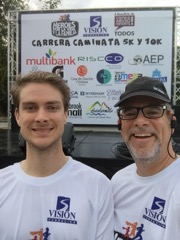 Panamanians care deeply about children who have been abused, or who are at risk. In past ministry seminars we have hosted Christian professionals who have taught on the warning signs and preventive measures to take in children's ministry. Last month Tony and Kirk ran in the 10k sponsored by the main organizations called Heroes for Life and for the Family.
Once again we found ourselves at the Immigration office. As always, before leaving with the new picture ID card in hand I examined it for accuracy. "Where's the expiration date?" I thought to myself. Then I remembered, it's finally permanent! Praise the Lord!
Next week over Thanksgiving is the biannual Central America missionary retreat, hosted this time in Panamá. Over 150 of our AGWM colleagues and leaders join for five days of fellowship with the Lord and each other. Please pray, as we have been doing these past months of preparation, that it will be a time of inspiration, rejuvenation and new motivation toward the task of reaching our part of the world for Jesus.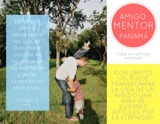 Another prayer request is for an upcoming event: on Saturday 2 December we are hosting a free pizza party for prospective mentors, as part of the Amigo Mentor Panamá program. The flier here is in Spanish, but hopefully it can remind you to be praying that each orphan will get to have his/her own mentor/friend.
Here's a brief update on our four kids:
Chloe just finished her traveling nurse contract in Little Rock, AR. Next she travels to Colorado to be the nurse at MK Ski Retreat, then she comes here to Panamá for the holidays before going to Kenya to help with infant care at their MK winter retreat.
Tony is a Special Education teacher at The Metropolitan School in the City of Knowledge here in Panamá. He also helps out in the worship band at LifeBridge Church.
Celina is at Baylor College of Medicine where she advanced to candidacy this summer and has now begun her research project in fulfillment of her PhD. Along with the rest of Houston she is celebrating the Houston Astro's first ever World Series victory.
Gracie is wrapping up sophomore fall semester in Music at Evangel U. Please join us in praying for her and all the college MKs at Ski Retreat over Thanksgiving week.
From our patriotism seminar on children and country:
But our citizenship is in heaven, and from it we await a Savior, the Lord Jesus Christ,
who will transform our lowly body to be like his glorious body, by the power that enables him even to subject all things to himself.
Philippians 3:20-21 (ESV)
Yours for Them,
Kirk & Yvonne
P.S. If you prefer not to receive these e-Mailers, or happen to receive a duplicate, simply reply "remove" or "dup" and we will take care of it.
HOME | NEWSLETTER | MEDIA | PANAMA | FAMILY | PERSONAL | TEAMS | CONTACT US | EMAIL US