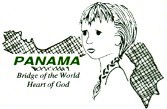 jonesjournal.org > newsletters > e-Mailer for 9/2017
Dear Friends,
Greetings in Jesus from Panamá!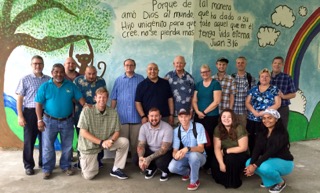 If you'd prefer you can read this e-Mailer online, or see past issues on "Newsletter" page at jonesjournal.org. This issue includes updates on our life, ministry, praise.
Since our last e-Mailer communiqué, we hosted two US teams, made puppets, taught kids ministry leaders, avoided going to jail, and enjoyed summer family time. If you'd like more details, read on…
Life Center Church from Lakewood, CA brought a hard-working team that ministered primarily with the Canaan ChildHope (Latin America Childcare) School at their Santa Librada and Aguadulce campus. With their generous contribution and industrious labor they laid block walls for three classrooms, reinforced a sagging retaining wall, transformed a scrapyard into a covered and secure preschool playground (original beautiful mural featured in group picture) including assembling a new jungle gym playhouse.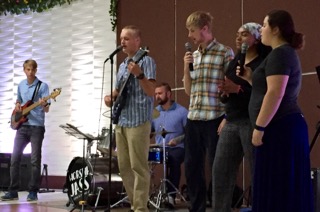 Plus they ministered with children of all ages in several school chapel services. In turn the children shared a special program of folkloric costume, music and dance.
A special blessing for our family was that my nephew, Luke Jones (leading worship on guitar), joined his friend on the team, even though it wasn't his home church. Our thanks to Pastor Chuck Franco and team leaders Bruce & Cathy Underwood.
During the gap week before the next team arrived, we once again faced an additional delay in our missionary visa processing which made us, technically speaking, "illegal." Our lawyer warned that if we traveled to the interior with the team we might be jailed. On the last possible day we received the next extension permit. Now please pray for two more steps until we receive the 10 year missionary visa—that should carry us into retirement!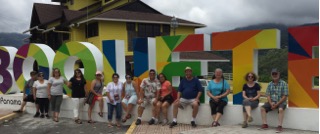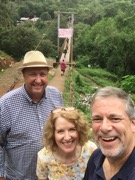 River of Life Assembly from Hood River, OR brought a bilingual team to minister primarily in the highlands of Boquete, Chiriquí. It was a return trip for Pastor Terry Abbott, who we have known since our SCC (now Vanguard U.) days. We trekked over a suspension bridge up to the mountain community of Llano Ñopo to minister among the Ngobe Indians.
He brought Pastors José & Becky Dominguez with members from their church Luz del Valle, Keizer, plus a dynamic Panamanian sister, Zoila and her husband Saul Ramirez from his own church. Everyone ministered powerfully in the Word and music, at times dividing up among the daughter churches into five smaller teams, as well as sharing at ChildHope (LACC) school chapels.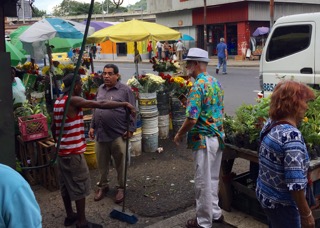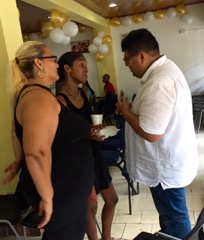 Back down in Panamá City we joined alongside Pastor Aldo Garcia and his church's outreach to homeless, gang members, street people and drug addicts. We walked the narrow allies and teeming sidewalks surrounding the storefront church/ministry center in a well-known dangerous "red zone" of Panamá City inviting people to church and talking/praying with whoever was willing.
One young women, an admitted drug addict who desperately wanted help, eventually came back after the service was over. Team member Pastor José, along with a sister from the church, led her in a beautiful time of prayer for salvation & deliverance. To God be the glory!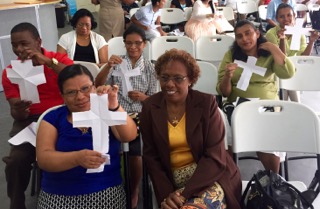 With a different group of kids ministry leaders Kirk again shared strategies and best practices for evangelistic campaigns and crusades. They learned a simple gospel illustration folding a piece of paper into a house (invitation to God's home in heaven) and then a jet airplane and later a rocketship (ways that won't get you to heaven) and finally the cross of Jesus appears (the ONLY WAY of salvation!).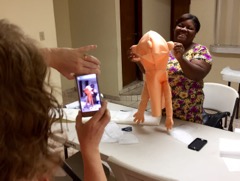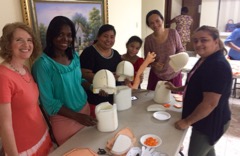 For our monthly kids ministry leaders seminar Carolina Canto did a fabulous job preparing the patterns/instructions and then teaching us how to mark, cut, sew, glue and assembly a very professional-looking puppet. At a fraction of the cost too. You can see the pride and satisfaction Yvonne captured in Judith's face acquiring this useful tool for kids ministry.


We joined with over a thousand of our Panamanian colleagues at the annual Ministers Retreat. Pioneer pastors-missionaries Dick & Jan Larson were special invited guest speakers as we continued to celebrate Panamá's year of Jubilee 50th anniversary. Afterwards we got to enjoy some fellowship with them and their daughter Melodee & Larry Gruetzmacher.
Update on our Panamá Assemblies of God President Lowell David: The third round of chemotherapy has weakened him considerably, but has not dampened his faith in a God who heals. Even while convalescing he declares, "God's going to heal me--I've got building projects at my church and the campground yet to complete!" Please believe with us for his complete healing.
Here's a brief update on our four kids: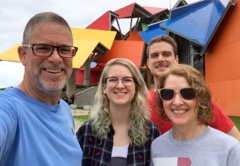 Chloe recently moved to Little Rock, AR for her next traveling nurse assignment, and she gets to live with a former roommate, also an MK traveling nurse!
Last Sunday with Tony we visited Casa de Oración Cristiana, which is the church where Tony was dedicated as an infant. They were honoring their pastoral staff on Pastor Appreciation Day. To show what a gracious man senior pastor Rev. Hermes Espino is, he unexpectedly called us from practically the back row to join the pastors on stage to pray for this humbled missionary family also. I only mention this to highlight one reason God has blessed the Church in Panamá, their gracious appreciation of His workers.
Celina continues her PhD program in Houston, TX. The flood waters rose just to her doorstep, so she's OK. But join us and her in praying and contributing to the recovery effort.
After working the MK summer program Gracie spent over a month in Panamá, where she taught guitar worship at Crossfire, her youth group, and relaxed with Tony & us. Now she's back at Evangel U. as a sophomore studying Music.
Since the rest of this e-Mailer has run longer than usual (I hope you've read this far to get to the Scripture!), I'll continue with a bit longer passage that comforted my soul recently:
My Help Comes from the LORD
A Song of Ascents.
1 I lift up my eyes to the hills.
From where does my help come?
2 My help comes from the LORD,
who made heaven and earth.
3 He will not let your foot be moved;
he who keeps you will not slumber.
4 Behold, he who keeps Israel
will neither slumber nor sleep.
5 The LORD is your keeper;
the LORD is your shade on your right hand.
6 The sun shall not strike you by day,
nor the moon by night.
7 The LORD will keep you from all evil;
he will keep your life.
8 The LORD will keep
your going out and your coming in
from this time forth and forevermore.
Psalm 121 (ESV)
Yours for Them,
Kirk & Yvonne
P.S. If you prefer not to receive these e-Mailers, or happen to receive a duplicate, simply reply "remove" or "dup" and we will take care of it.
HOME | NEWSLETTER | MEDIA | PANAMA | FAMILY | PERSONAL | TEAMS | CONTACT US | EMAIL US