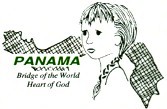 jonesjournal.org > newsletters > e-Mailer for 10/2015
Dear Friends,
Greetings in Jesus from Panamá.
If you'd prefer you can read this e-Mailer online or see past issues on "Newsletter" page at jonesjournal.org. This monthly e-Mailer includes updates on our life, ministry, praise, and prayer.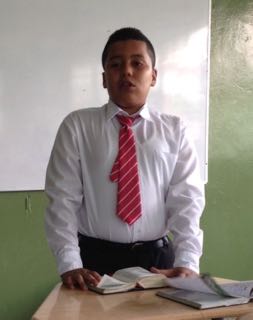 This past leaders seminar for MININFAD (AG Children's Ministry acronym) we got to see the bright future of kids ministry. Young Jair D. shared a challenging message for a stronger commitment to the Lord. Even though he was a little nervous at first, he did a great job and received an enthusiastic round of applause after.
Jair's preaching flowed into Kirk's main topic: how children can use their talents to glorify God and share Jesus with others. It's the idea behind Fine Arts Festivals in the US, which is now expanding into other countries. Yvonne shared how her involvement in this ministry (formerly called "Teen Talent") helped her and friends prepare for ministry.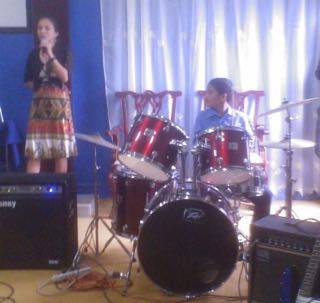 Now all of them are actively involved in various forms of Christian service decades later. Please pray with us as we begin to lay the groundwork for a Fine Arts Festival with a view toward fulfilling our national slogan: "Children Reaching Children."
Perhaps one of our first Fine Arts percussionists will be this little guy. It was a treat to meet young Deller S. skillfully drumming with a worship team at a one of our district minister formation meetings where we shared on kids ministry opportunities here in Panamá.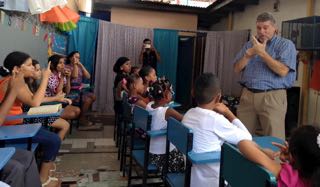 We visited Pastora Regina's beautiful church last month. She was Kirk's student at the Bible School. We taught the kids in children's church how to share their faith using their hand: God loves me, I have sinned, Jesus died for me, I repent and receive Him, and now I'm His child! We give the children a simple Gospel message that they will always have on hand to share with their friends.
Allow us to introduce a new member of our volunteer leadership team: Neylis Pérez is a physical therapist who learned of Children's Ministries (MININFAD) through a mutual friend at work. She has been ministering to children at her church for years, but needed help, some fresh ideas and support from fellow workers.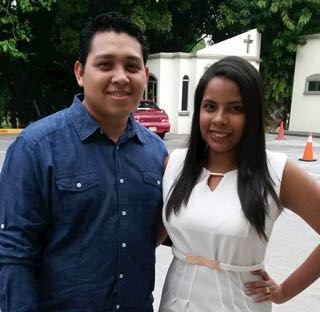 She found that and more in our meetings, so she offered to help with database, e-mail and computer issues. She is pictured with her husband Moises.

Later this month on the 22nd in Colón we join with our coordinator Pastora Itzel de Moreno and about a dozen churches for a Kids Festival and Parade. The missions-minded theme is: "that everyone might know." Includes traditional Panamanian and international costumes, a short parade route, Kids Games fun with a Bible message, and a little something to eat! Even if you can't read the language or the tiny text of this poster, you can pray that many children in our churches in Colón will become soul-winners and that many of their friends will come to know Jesus!
Grace has been leading the Crossfire youth worship team. The fall retreat happened on her birthday last month, so they took a break to sing "Happy Birthday!" She also enjoyed a day at the beach with friends after the retreat.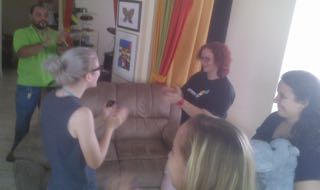 Next month is patriotic emphasis with several different national holidays and parade marches with bands and schools and lots of flags. In preparing material for our leaders this verse stood out. It's a timely reminder in patriotic or political seasons. Instead of complaining or quarreling, we must pray for the "peace" of our city (as "welfare" is rendered in other translations).
But seek the welfare of the city where I have sent you into exile, and pray to the Lord on its behalf, for in its welfare you will find your welfare.
Jeremiah 29:7 ESV
Yours for Them,
Kirk & Yvonne
P.S. If you prefer not to receive these e-Mailers, or happen to receive a duplicate, simply reply "remove" or "dup" and we will take care of it.
HOME | NEWSLETTER | MEDIA | PANAMA | FAMILY | PERSONAL | TEAMS | CONTACT US | EMAIL US