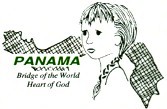 jonesjournal.org > newsletters > e-Mailer for 6/15
Dear Friends,
Greetings in Jesus from rainy season Panamá.
Yvonne first: I went to the orphanage last week and learned about a baby that was found dropped off by the garbage. She still had her umbilical cord. My heart was heavy as I prayed for a loving Christian family to raise her. I also prayed for protection from the inevitable effects of institutionalization while she waits.
As I was leaving, I saw two teenage girls that were in my Bible Study last term and we gave each other a big hug. I was so happy to see them, but sad that they were still living there. Please pray that the new government would help families adopt and provide foster care.
Kirk next: A couple weeks ago I visited three different district pastor's meetings sharing with about 200 pastors promoting our monthly seminars for their leaders and recruiting for local leadership committees. It might not seem glamorous, but future fruit comes from cultivating these relationships and developing future leaders.
Last week was especially full of ministry events since it was mid-term vacation week. We got to share in Colón, Chepo, Las Cumbres, Colón again plus our monthly leader seminar here in Panamá City.
Our teaching emphasis with the kids was "God loves and uses children on His team." We highlighted Biblical examples of young Samuel called as a child, David anointed king as a youth, and the 2-fish-5-bread kid, who even though we don't even know his name, he's still famous in God's eyes because he gave it all and Jesus multiplied it! That was our challenge and here's some of the results:
80 kids stood up to become "recruiters" for God's team.
70 adult leaders from 20 churches came together in training and preparation on behalf of Panamá's kids.
1 new committee formed to train kids ministry leaders monthly in their region.
We published online to our social media more than usual this week. So to see more quips, vid clips and pics of these events we invite you to go to: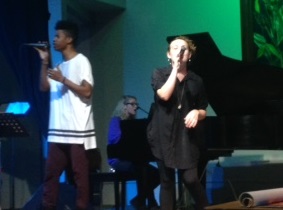 Missionary Facebook/panamakirkyvonnejones
Kirk's Facebook/kirkajones
Here's a brief word on our four kids: Chloe has planted a garden that is blooming with herbs, vegetables and beautiful flowers. Tony is spending the summer with his former youth pastors and just got hired as assistant to the Missions Director. Celina earned a slot as a research intern with a Prof. at Pepperdine gaining valuable lab experience. Gracie is the new leader of Crossfire youth worship band. She leads solo for the first time tonight!
Thank you to so many of you for your sacrificial giving and faithful prayer support. We feel it and appreciate it. In reviewing monthly donation reports from AGWM HQ we can see that others of you might be struggling under financial pressures of your own. We take this opportunity to pray that the Lord will supply your needs according to His riches in glory (Phil. 4:19) and we ask you to do the same for us.

After 20+ years living and working in Panamá I finally read (OK, listened to) the classic history of the canal by David McCullough, The Path between the Seas: The Creation of the Panama Canal, 1870-1914. My favorite example of their "can do" spirit is reflected in the advice Chief Engineer Stevens gave to Maltbe, a newly promoted lieutenant engineer:
You won't get fired if you do something. You will if you don't do anything. Do something. If it is wrong, you can correct that. But there is no way to correct nothing.
Tie that in with what we shared at an appreciation banquet to encourage faithful kids workers recently and I think you have a recipe for success in ministry:
And let us not grow weary of doing good, for in due season we will reap, if we do not give up.
Galatians 6:9 ESV
Yours for Them,
Kirk & Yvonne
P.S. If you prefer not to receive these e-Mailers, or happen to receive a duplicate, simply reply "remove" or "dup" and we will take care of it.
HOME | NEWSLETTER | MEDIA | PANAMA | FAMILY | PERSONAL | TEAMS | CONTACT US | EMAIL US