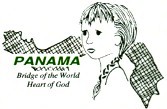 jonesjournal.org > newsletters > e-Mailer for 3/14
Dear Friends,
Greetings in Jesus!
If you'd prefer you can read this e-Mailer online [http://www.jonesjournal.org/ministry/e-Mailers/2014-03/e-Mailer_2014-03.htm], or see past issues on "Newsletter" page at www.jonesjournal.org. This monthly e-Mailer includes updates on ministry, family, praise, and prayer.

As Missionary in Residence at Evangel University for the school year, one of the biggest tasks is coordinating Missions Emphasis Week with the World Changers Mission Fellowship (WCMF) student leaders. Thanks to the investment of many quality people we are grateful to report it was a success. While it was a lot of work preparing, student volunteers did manage to have a little fun in the process.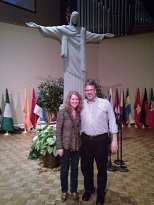 The focus was on Latin America and the Caribbean (LAC). The AGWM Regional LAC office went above and beyond the call, especially providing for the Great Race Latin America Experience. It is a self-guided interactive tour where students learned about the needs and opportunities that exist for missions in the LAC region. The iconic Christ the Redeemer statue that you normally see overlooking Rio de Janeiro figured prominently on our Chapel stage surrounded by flags from the nations of the world.
All three morning chapel speakers touched the students' hearts for missions. Thursday morning the students gave a generous offering toward an open-air crusade in a closed nation in our hemisphere. The Thursday evening open forum allowed for more personal interaction with student Q&A of our panel members, plus a rich time spent in prayer at the altar. I got to witness one particular God-moment afterwards when a student told me, "my major is marketing, but this…" and simply gestured with her hands toward the altar and the other missionaries as tears welled up in her eyes "…this is my heart."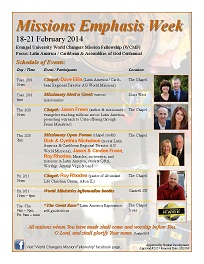 Just over her shoulder I saw Alex McGregor, AGWM missionary representative to our colleges, who recently had asked me if there were any EU students interested in doing a marketing campaign project for a particular missionary group. Needless to say, she is now in contact with those missionaries and possibly even changing majors to intercultural studies (i.e. "missions"). That gives you a snapshot of exactly what we prayed that Missions Emphasis week would accomplish.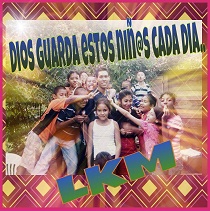 You can click to see a PDF version of the poster for more details on our guest speakers and events all week. Allow me to include a special thanks to our WCMF student leaders who really stepped up in the preparations before and work during and after the event.
This long weekend is Carnival celebrations around the world, especially in Latin America. Many of our churches in Panamá hold retreats and others do evangelistic outreach among the revelers. I invite you to join us praying for someone we trained in our monthly seminars, we held a special event at his church, and who continues to faithfully serve the children of Chepo: Eladio Perez. As usual, he is right in the middle of all the kids. The caption reads: "God protect these children every day." I saw on his facebook page that they are doing a camping retreat this weekend. I messaged him that we would be praying. His response: "Amen! Glory to God!"

Our prayer and plan is to return to Panamá in July. We would appreciate if you would prayerfully consider an increase or a new commitment at this time. For all of our friends and churches and supporters, please pray with us, as we trust God to provide through you, His people. Here is our financial status to date:
Cash budget: $11,172 out of $28,194 = $17,022 needed.
Monthly budget: $8717 out of $9966 = $1249 needed.
God, be merciful to us and bless us; look on us with kindness,
so that the whole world may know your will; so that all nations may know your salvation.
May the peoples praise you, O God; may all the peoples praise you! (Psalm 67:1-3 GNB)
Kirk for all
P.S. If you prefer not to receive these e-Mailers, or happen to receive a duplicate, simply reply "remove" or "dup" and we will take care of it.
HOME | NEWSLETTER | MEDIA | PANAMA | FAMILY | PERSONAL | TEAMS | CONTACT US | EMAIL US