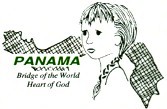 jonesjournal.org > newsletters > e-Mailer for 12/11
Dear Friends,
Warm tropical Christmas greetings from Panamá!
If you'd like to read past issues, see Newsletters. This monthly e-Mailer includes updates on ministry, family, praise, and prayer.
Panamá is in the news again. Back in January 1990, when we began itinerating to come to Panamá for the first time, headlines shouted that dictator Gen. Manuel Antonio Noriega was removed from power following the US invasion. This past weekend, after a 22 year absence spent in jails in Miami and France, Noriega returned to Panamá. The ailing 77 year old former strongman was taken directly to the Renacer prison in Gamboa. He likely will be placed under house arrest.

My thoughts went immediately to my former Bible school student who is now pastor of her own church, Adela Giroldi. Her husband, Major Moisés Giroldi, was one of the political enemies that Noriega is accused of murdering after an unsuccessful coup attempt. I interviewed her in 2004 asking her to trace how God brought her through this tragedy to faith and peace in Jesus. Last month she told me that with God's help she has completely forgiven Noriega.

It was an honor to be able to preach for the Panamá City Bible School (ISBAD) Graduation ceremony earlier this month, especially since it was their largest class to date—63 graduates! We salute Assistant Director Frank Pérez, receiving his diploma, and Director Felipe Springer (background left) for their excellent efforts. I will be teaching World Religions for Missions majors starting in January.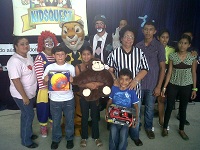 Last month's KidsQuest Crusade was in Cañaveral. The prize winners were Yésica, Hector and Abdías (with the toy car), who brought the most visitors. A few seconds after meeting him, I could see why. He is gregarious, talkative, and very intelligent. He had all the memory verses down pat. He knew a little something about everything. He was always at church. That is the kind of 4/14'er who will change their world!
We invite you to follow us on twitter and facebook. By way of example, below are thumbnail images and posts I made during the Christmas Crusade in Bugaba, Chiriquí, western zone:
- - - - - - - -
Tomorrow is the Christmas Crusade in Bugaba. Pray for children to receive the greatest gift from Jesus!

Christmas Crusade in Bugaba is underway right now. Pray kids receive el Mejor Regalo -- Jesus!
Behind the scenes during Christmas Crusade. Keep praying!
Precious kids learning memory verse Matthew 1:21 he will be named Jesus!
After the Christmas crusade the host church had bouncy houses! Wahoo!
Final crusade report: over 200 children were reached for the Lord today! Praise God! Thanks for praying!
- - - - - - - -

You can also see a video report of the Christmas Crusade on our Media page.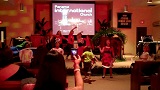 Speaking of Christmas videos, both Celina and Gracie helped out in the PAINT Church Christmas program. You can see them and all the other adorable children in a video on our Media page.

Right after that program finished, we raced across town to see the Crossroads Cantata where Yvonne was playing piano and keyboard from down in the orchestra pit. It was a beautiful presentation of "Christmas Joy." On the way there, Celina and Gracie were a little bummed that they weren't in the dance troupe this year, as they have done in years past.
Gracie will be performing this week in her first recital, on the violin, that is. She's done piano recitals before.
Celina is excited that she's been accepted by the first colleges she applied to. She's still not decided on which one yet.
Tony has gotten involved in a business club on campus at Evangel U. and helped organize a canned food drive.
Chloe got to shadow a grade school nurse and says, "After the first 5 minutes of shadowing her, I was sold! It is such a fun job!"
Chloe and Tony are coming here for Christmas – ¡yeah! We can't wait. Chloe has to work so she arrives a little later. It's tough becoming a grown-up!
Our print newsletter holiday edition will be arriving soon. You can also see the pdf on our Newsletter page. If you'd like to receive the hardcopy edition in the mail, just let us know.
As the days left on the calendar grow fewer the gratitude we feel in our hearts grows stronger. We count it such an honor and privilege to serve the Lord as your ambassadors to reach children and train children's workers here in Panamá. Thank you for your prayers and support this past year.
We've been given permission for an early itineration beginning July 2012. We look forward to seeing many of you again to give a report of what God has been doing here with Panamá's children and to hear about your ministry, family, and life! Please contact us to plan a visit.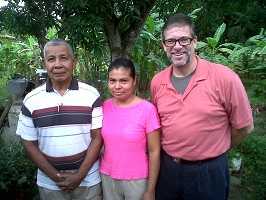 Allow me to close this e-Mailer with what we call in our print newsletter a "Panamanian Profile." Right after the KidsQuest Crusade in Cañaveral I tweeted this picture with a brief prayer request. Allow me to properly introduce you to Miguel & his wife Jacqueline Virginia. She explained that people call her "Jacqueline," even though her birth certificate says "Virginia." Her dad forgot to include both names filling out the forms! Miguel was a sailor for many years on oil tankers running up and down the Americas. Later he served for 27 years in the Panamá Coast Guard, rising to Lieutenant commanding his own patrol ship. He admitted he lived a wild life during those years. Later Jesus got ahold of his life. After his retirement they moved out in the country to Cañaveral. He is a lay leader at church.
The night we men stayed at their home during the early morning hours his cell phone rang often. It turned out that his 90 year old mother had passed away. He did not tell us at the time, another family member did later. We returned to pray with them before the final Crusade presentation. Smiling through moist eyes he told us that three days earlier God gave him a vision of his mom dressed head to toe in white, with a big smile on her face. In the vision he asked her why she was smiling, but she didn't answer. He took it as a sign that God was going to take her home soon.
While I was setting up the air mattress to sleep in his front room, he gently grinned and suggested I slide it over a ways so that if it rains the leaks wouldn't wake me up. I share their story with you because they represent many believers, especially in our churches in the interior, who may be poor in worldly wealth, but are rich in spiritual fervency, storing up treasure where thieves cannot steal and moths will not corrupt.
It is heartening to me to note that God still speaks to His people in dreams, just as He did to Joseph, preparing the way for His Son's birth.
Joseph, chagrined but noble, determined to take care of things quietly so Mary would not be disgraced. While he was trying to figure a way out, he had a dream. God's angel spoke in the dream: "Joseph, son of David, don't hesitate to get married. Mary's pregnancy is Spirit-conceived. God's Holy Spirit has made her pregnant. She will bring a son to birth, and when she does, you, Joseph, will name him Jesus--'God saves'--because he will save his people from their sins." This would bring the prophet's embryonic sermon to full term: Watch for this--a virgin will get pregnant and bear a son; They will name him Emmanuel (Hebrew for "God is with us"). Then Joseph woke up. He did exactly what God's angel commanded in the dream: He married Mary.
(Matthew 1:19-24, The Message)
A Very Merry Christmas and a Blessed New Year!
Kirk for all
HOME | NEWSLETTER | MEDIA | PANAMA | FAMILY | PERSONAL | TEAMS | CONTACT US | EMAIL US