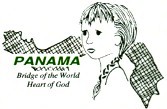 jonesjournal.org > newsletters > e-Mailer for 8/10
Dear Friends,
Greetings in Jesus!
If you'd like to read past issues, see Newsletters. This monthly e-Mailer includes updates on ministry, family, praise and prayer.
This issue we'll start with family and end with ministry. Chloe has been with us the last part of July and first part of August. We all have thoroughly enjoyed being all six of us together again. While here, Chloe has gone to the orphanage with Yvonne and she is making plans to bring a team of nursing students to Panamá next spring break.
Anthony and Gracie took over the movie ministry nights with the children of our ministers at the annual Minister's Retreat end of last month. Tony set up all the projector and DVD gear. Gracie took care of preparing and distributing the popcorn.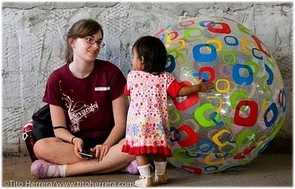 Celina had an incredible ten days with the youth missions team in Máncora, Perú. She said her favorite parts were leading the motions at Kids Church as part of the worship team, and getting to know families in the community.
We invite you to see a brief YouTube video featuring their Family Fair Concert, edited by photographer Tito Herrera. Thanks to him also for permission to use one of his many fabulous pictures seen here (visit www.TitoHerrera.com) of Celina with the young daughter of a church family.
Our entire family says a huge "Thank You!" to the young people of Southern California, and especially the San Fernando section, for raising the funds for our new Speed the Light car! We've had this shiny white Toyota Land Cruiser Prado for a month now, but wanted to include Chloe in the "Thank You!" picture, as you see here. While it may look like we're out in the jungle, it's actually right next to our house. In rainy season everything is green and growing.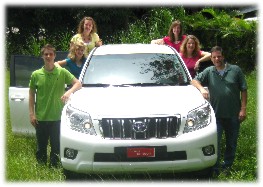 Last issue we reported that our work budget was approaching the red line of $0. Following that we had several unexpected extra contributions and even new financial commitments. While we're not out of the redwoods yet (get it? red ink! ;-D), we deeply thank you, again, for your prayers and financial partnership with us. Much appreciated!
The Annual Minister's Retreat was a standing-room only crowd, literally. God continues to call and prepare men and women for ministry across the Isthmus of Panamá, and around the world. One report that captured my heart was by Efraín Arosemena who took a few Panamanian pastors along with a love offering from our churches to minister in Haiti following the earthquake devastation. We saw video of children receiving meals, a medical clinic meeting basic needs, and powerful Pentecostal services with our Panamanian brothers and sisters ministering to the hearts and lives of broken Haitians. Since the World Missions Congress hosted here in Panamá last April, there has been an increased response to needs around the world. Praise the Lord!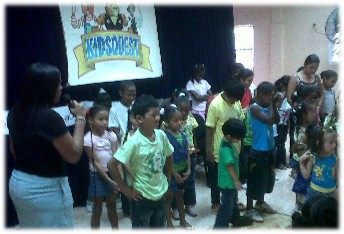 Monthly leaders seminars and KidsQuest Crusades continue, for which we ask your continued prayers.
Mondays are still Missions night for me at Bible School. Let me paraphrase an interesting analogy we studied from an article written by missionary anthropologist Don Larson on the Viable Missionary. In East Africa a missionary explained what happens when a herd of elephants approaches a watering hole that is already surrounded by another herd. The lead elephant of the second herd turns around and slowly backs in toward the water hole. When his backside is felt by the first group, they step aside to make room. That is the signal to the second group that the first group is ready to make room for them to drink.
So what's the point? In most places around the world, instead of barging in head-first, a viable missionary will find greater success backing in to the new culture. Instead of attempting to enter as an expert, he or she comes in as an apprentice, trader and story-teller. After twenty years, we continue striving to be loving learners for the children and churches here in Panamá, striving to follow our Lord's example:
He will not break a bruised reed,
and He will not quench a smoking wick,
until He sends out judgment to victory.
And in His name the nations shall trust.
Matthew 12:20-21, MKJV
Yours for Them,
Kirk for all
HOME | NEWSLETTER | MEDIA | PANAMA | FAMILY | PERSONAL | TEAMS | CONTACT US | EMAIL US