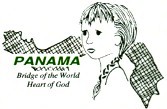 jonesjournal.org > newsletters > e-Mailer for 4/09
Dear Friends,
Greetings in Jesus!
If you'd like to read past issues, see Newsletters. This monthly e-Mailer includes updates on ministry, family, praise and prayer.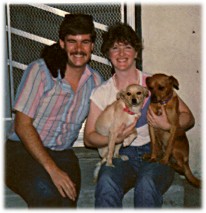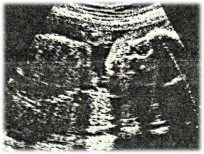 I am in the process of preparing the first issue of Volume XX of our quarterly print newsletter to go out in May. For twenty years we have been "publishing" this newsletter. That got me reminiscing. Our very first missionary letter was sent to over 100 family and friends at Christmas 1989. I consider that not volume I, but rather volume 00. Here's why: I processed the words on an IBM laptop computer with two floppy drives (no hard disk) and printed it out on a dot-matrix printer. We "cut and paste" using actual scissors and real glue to include a picture of us with our "kids" -- our two dogs Cinnamon and Sugar and our little kitty cat Tica, plus an ultrasound picture of Chloe, before we even knew she was Chloe.
You can see a scanned version of it in the recently added 1989 column of our website Newsletter page. But please don't laugh too hard. We have come a long way, and hopefully improved along the way. While the technology has drastically changed, it is interesting to note what has not changed. Our first news release spoke of our desire to do "street-level kids crusades" and "ongoing training of children's workers." Guess what? We're still doing it. We also mentioned that a missionary is "just an ordinary person working for an extraordinary God." Just preached that last Sunday to a great children's church in Beaumont, CA.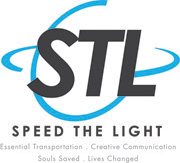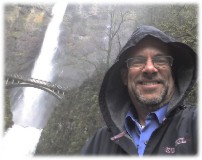 So what have we been up to this past month? Continuing the itineration travel, mostly local in Southern California, plus a weekend of services and appointments in Oregon. Driving along the Columbia Gorge from Hood River to Portland I took a brief break at beautiful Multnomah Falls. A unique treat is that we got to meet with the youth groups from the San Fernando section of Southern California who will be raising money for our Speed the Light vehicle. Usually the missionary does not get to meet the actual youth groups and pastors who raise the funds for our Speed the Light vehicle. Many thanks in advance to the dedicated youth pastors and young people for all the work you are doing allowing us to have wheels to roll all over Panama.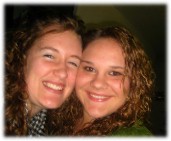 Concerning our budget, we still lack about $1300 in monthly support and over $42,000 more in the cash budget. Thanks for all those who are supporting and praying for us to raise the balance. We appreciate that. Thanks for the churches and pastors who are considering joining our support team.
Chloe always mentions how much work college is, but we know she's having a lot of fun. Our proof is through her lively pictures on Facebook. She has said how blessed she feels for living with an incredible roommate and amazing girls on her floor and participating in activities such as floor slumber parties, intramural sports, and late night Wal-Mart runs. We're just excited to get her home in a month.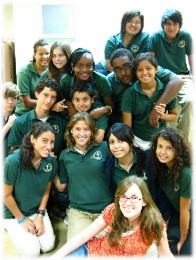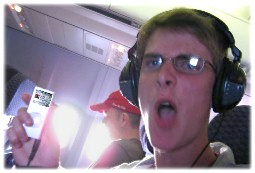 Last month's highlight for Anthony & Celina was an unexpected trip to Panama. They got word that their beloved youth pastors Mark & Kelli Warder would be leaving Panama in June for a new ministry opportunity in the U.S. Since it would be their final retreat with the youth group in March, we decided to send Anthony & Celina down (yes, by themselves) to enjoy a long weekend with their friends.
You can see that Anthony got pumped up on the plane ride down listening to "Panama." Celina enjoyed being with her classmates again. Just visiting, so no homework! They got to play guitar and sing in the worship band for the retreat.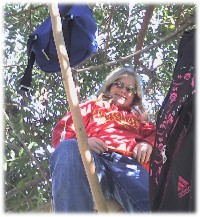 In our itineration presentation we often mention that Gracie is our sports girl. Since basketball season is over, she has had to create a new "sport" to challenge herself. Lately she's been doing her homework, eating her afternoon snack, and just chillin' listening to her iPod up a tree!
Thanks for continuing to pray with us…
* that we passionately share the call God has placed on our hearts
* that our team of volunteers in Panama keep reaching children for Christ
* that we return to Panama ASAP to be able continue helping "children reach children"
* that God does what only He can do while we do what only we can do
When Paul said farewell at Ephesus one verse spoke to my heart about entrusting ourselves and our loved ones to the Lord:
Now I'm turning you over to God, our marvelous God whose gracious Word can make you into what he wants you to be and give you everything you could possibly need in this community of holy friends.
Acts 20.32, The Message
May His Word and our community of holy friends provide all we need to be more like Jesus. Blessings!
Yours for Them,
Kirk for all
HOME | NEWSLETTER | MEDIA | PANAMA | FAMILY | PERSONAL | TEAMS | CONTACT US | EMAIL US