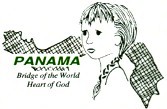 jonesjournal.org > newsletters > e-Mailer for 8/08
Dear Friends,
Greetings in Jesus! If you'd like to read past issues, see Newsletters. This monthly e-Mailer includes updates on ministry, family, praise and prayer (covering the past two months since we had computer "issues").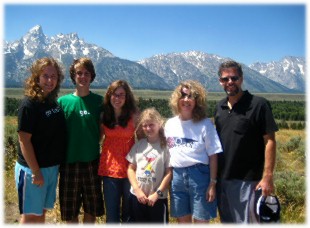 Happy (belated) Independence Day, U.S. of A.! We're back on U.S. soil and our kids got to celebrate the 4th in style, along with Celina's 14th birthday, with an incredible BBQ party and backyard fireworks show. Thanks so much to Crosspoint AG in Paola, KS and the Colliers for their hospitality.
In the last e-Mailer we asked for your prayers for our family in the transition as we returned to the US on 26 June. We *should* have requested prayer for the weather too… We arrived fine, with all our luggage, but 24 hours later! Oh well.
Allow us to take a moment to update our contact information for this itineration cycle 7/08 - 8/09:
Mobile (primary) phone: 805.345.9720
VoIP phone: 626.507.8044 (note: will be home phone end of 8/08; then office phone once back in Panama)
E-mail address: kirk.jones@agmd.org
Mail address: 105 Pilgrim Way, Arroyo Grande, CA 93420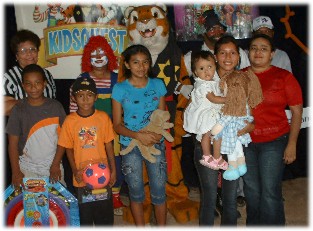 Our final KidsQuest Crusade for this past term was in Pajonal, central zone, 14-15 June. Thanks to all of you who prayed with us. Our regional coordinator Rigoberto Mitchell did a great job coordinating with host Pastor Seferino Quiroz setting up and promoting the crusade. Pictured here are the four visitor campaign winners with their prizes: Thais, Velkis, Victor & Josue. Between them they brought 46 new visitors to the crusade meetings!
As a way to say "farewell for now" to minister friends before leaving Panama, I bought a bag of a typical seasonal veggie called pisbae to hand out. They were not already boiled and salted, so I stunk up the house for several hours doing the job. It was worth the work to hear how much the guys enjoyed it.
The last week of July was our Ministers Retreat in Panama. Our team, ably led by Carolina Canto, ministered with our pastor's children. At our farewell minister's meeting in June there were over 120 new credentialed ministers--the largest group to date. Please join us in prayer for continued growth among our Panamanian leaders, ministers and churches.
I picked up our leased mini van and drove it to meet the family in Kansas then on to Springfield, MO. In a month we've put over 4000 miles on it. We spent a couple weeks in Springfield for Missionary Renewal (former "School of Missions") and then Reentry Seminar. All of the family thoroughly enjoyed renewing friendships and making new ones. The reentry discussions were helpful for all of us to help with adjustment back to life in the US and to help get through reverse culture shock.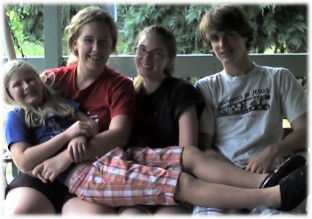 Yvonne and I are so proud of the great attitude and hard work of our four fabulous kids during this time of transition. Here you see them kicking back on Grandma's porch enjoying a later-than-normal sunset, for us at least. Sunset has been consistently at 6:30pm for all of their lives in Panama. The slightly grainy picture is from my new PDA/phone. Had to capture the moment!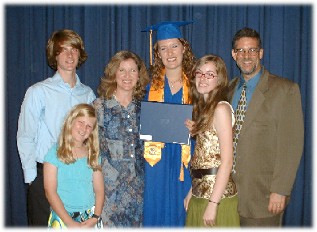 Not only was June a big moving month for our family, it was also Chloe's graduation from Balboa Academy high school. As you can see her whole family is so proud of her! Next stop: Evangel University in the fall. About this past month Chloe says, "Missionary Renewal was fun and it was cool connecting with MKs again."
Pray for Tony. He is going through withdrawals. He sold his electric guitar the last night we were in Panama and we haven't had time to shop for a new one. During the ordeal of the move he really stepped up like a man alongside the movers, pulling his own weight and much more! He also said Missionary Renewal was "cool."
Celina has already been enjoying shopping with Grandma Bonnie at Wal-Mart and Macy's. Here she is offering Grandma Jo and us some delicious chocolate-covered strawberries she prepared for dessert. Cooped up car time she has used for her latest hobby--knitting.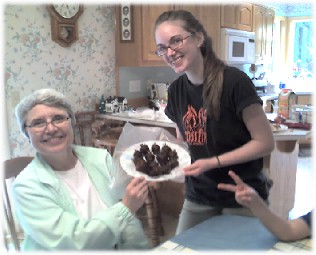 She's working on a hat for herself for the "harsh frigid conditions" of 60 degree summer nights. Our kids are going to *freeze* this winter!
We scheduled in some down time after missionary meetings and our dear friend Rose (thanks!) hooked us up with friends who have a boat. So Gracie got to try wake-boarding. And she got up her first time! So did Chloe and Tony (Dad tried, but just got wet!).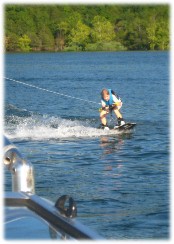 Yvonne says it's good to be back with family and friends. We've obviously done a lot of traveling. She enjoyed shopping with Chloe to set up her dorm room--it will be really cute. Since Chloe's roommate is an MK from Belize, they are going for a tropical theme.
We held our first itineration service in Woodburn, OR with my Bible school classmate of 28 years ago Pastor Rich Butler. Since then we have shared with churches, pastors and supporters in Kansas, Missouri, Colorado, Idaho, and again in Oregon. We stopped in Wyoming for the gorgeous scenery of Yellowstone Park and the Grand Tetons, where we stopped for the picture above. Let us know when we might visit with you as well by visiting our Itineration page or giving us a call: 805-345-9720.
We've put together a larger-than-usual collection of recent photos in this month's photo album. Enjoy!
Give joy to the soul of Your servant; for to You, O Lord, I lift up my soul.
For You, Lord, are good and ready to forgive, and rich in mercy to all those who call on You.
Psalm 86.4-5, MKJV
Thank you to all our friends, family and partners for your faithful prayers and financial support. We are here in the U.S. trusting God and His people to help raise our budget to get us back to work with Panama's children where both He and we want us to be. Thanks for prayerfully considering a new commitment or an increase.

Yours for Them,
Kirk for all
HOME | NEWSLETTER | MEDIA | PANAMA | FAMILY | PERSONAL | TEAMS | CONTACT US | EMAIL US