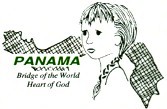 jonesjournal.org > newsletters > e-Mailer for 4/08
Dear Friends,
Greetings in Jesus! If you'd like to read past issues, see Newsletters. This monthly e-Mailer includes updates on ministry, family, praise and prayer.
Since the March e-Mailer went out a little late I already reported on the crusade we held in Uvito last month. You can please join us, however, in praying for upcoming crusades. We'll have two in May--one in Santa Cruz and the other in Boquete.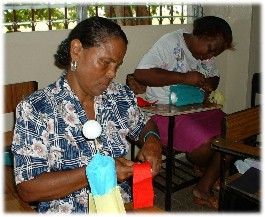 After this month's excellent Leadership seminar led last Saturday by two of our team members Manuel & Juan Carlos I came home thanking God for the quality people He has allowed me to work with. You can see here some of the puppets Manuel taught us how to make.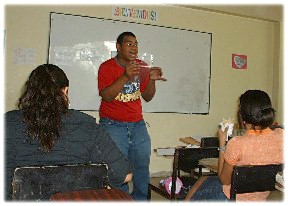 Juan Carlos is emphatically making the point that we need to teach with impact using object lessons.
The construction project in Duíma is almost completed. Next issue you'll get to see the basketball-volleyball-soccer-school assembly court!
For a more detailed report of our ministry and family activities for the first quarter of the year, you can see the April 2008 issue on our Newsletter page online. You can now select the resolution size you would like to download, depending on your Internet connection speed. It will be mailed out later in the month to our regular readers. Let us know if you'd like to receive a copy.
Chloe is keeping busy looking forward to upcoming graduation and then starting college at Evangel University in the fall. She's also been finishing up the school yearbook taking pictures, editing and laying out pages. It's been a really big project, but she says it's worth it!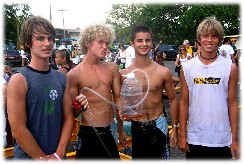 Tony and his "Lone Star"

teammates are pictured here after the third and final day of paddling in the Ocean-2-Ocean cayuco race last month. They did great with a total time of 5:52:08 for the 43 miles. You can see the music video we put together to celebrate their effort on our website Media page. Here is the 55th anniversary patch they received with this year's slogan: "Mind over body and heart over mind."
Celina still loves reading, in addition to her art, and cooking and sewing and shopping and Facebooking (well, I guess that's not really a verb, but you get the idea). She's got a few friends at school who are also bookworms, so they can swap around a good book.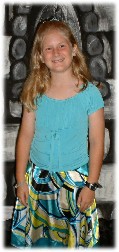 Gracie is pictured in front of the castle backdrop for the church's Royal Ball for Pretty Princesses and Noble Knights. She participated in the girly stuff, but what she really liked was making her very own dagger. Don't worry, it was tin foil wrapped around a piece of wood. Not dangerous, but still fun!
We welcome you to schedule a visit for our upcoming itineration July 08 - July 09 on our Itineration page. Or just give us a call! VOIP US phone #: 626-507-8044. FYI: we plan on keeping that number in the US during itineration ministry as well.
We'd like to say a special thank you to our friends, family and partners for your faithful prayers and financial support that mean so much and make what we put in these e-Mailers possible. We really appreciate it. Lord bless you!
Recently finishing the Book of Acts, the tag line for how the Apostle Paul lived out his final years, as a prisoner to boot, hit me with a challenge. Hope it will you too:
Paul lived for two years in his rented house.
He welcomed everyone who came to visit.
He urgently presented all matters of the kingdom of God.
He explained everything about Jesus Christ.
His door was always open.
Acts 28:30-31, The Message

Yours for Them,
Kirk for all
HOME | NEWSLETTER | MEDIA | PANAMA | FAMILY | PERSONAL | TEAMS | CONTACT US | EMAIL US