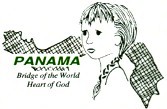 jonesjournal.org > newsletters > e-Mailer for 2/07
Dear Friends,
Greetings in Jesus! If you'd like to read past issues, click on Newsletters. This monthly e-Mailer includes updates on ministry, family, praise and prayer.
Happy New Year! All right, I know I'm a month late. Sorry about that. We were enjoying time with family in the US at Christmas and New Year, so I wasn't able to do a January e-Mailer. We also enjoyed the cold weather--what a difference from our tropical summer January through March.
And Happy Super Bowl! Congratulations to the Colts, and to both openly Christian coaches--Tony Dungy and Lovie Smith. We had 59 friends over for a Super Bowl Party. The best one yet, according to our kids.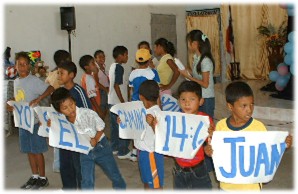 Panamá's Annual Session falls the first week of the year. Fanny Quinzada and I ministered with our pastor's children. We had morning classes and afternoon recreation activities--the pools made a big splash for everybody during the hot afternoons. One little guy was having trouble obeying when we asked him to not push other kids. On the first day I had to take him to his mom and explain why he couldn't go back in the pool that day for what he had been doing.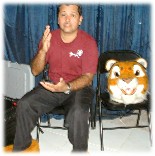 We worked with him by loving and correcting him when needed, but also lotsa doses of TLC and attention, especially when he followed the rules. By the end of the week his Pastor Dad came up to me and said, "Brother Jones, I think my son wants to be with you more than with me. It's Brother Jones this and Brother Jones that." It made me feel good that we could connect with the boy and help him improve his behavior without closing his spirit.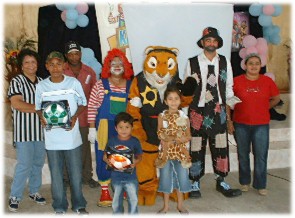 Antón is a small "stop" along the Interamerican Highway in the interior of Panama, with around 5000 residents. Pastor Pedro Santamaria had invited us many months ago to close out his VBS week. This small church did a great job organizing and gathering donations of snacks and gifts for the children. At the end Pastor Pedro told us that about 80% of the 70 children were new to the church. That's exactly the kind of impact we hope to have with a crusade.
Family News Briefs:
- We celebrated Yvonne's birthday at Hard Rock Café and then at home with cake and gifts. She didn't have to share with our annual Super Bowl party. She was glad.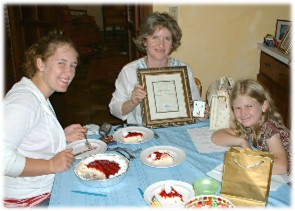 - Chloe is busy paddling on another cayuco team this year. They had the first race of the season last Saturday, about 7 miles long, with the start/finish line right in the shadow of the Bridge of the Americas. They made one of their best personal times and finished in the middle of the pack of the all girls teams.
- Anthony was invited to play electric guitar in another band, in addition to the youth worship band. It's called "220V," but in Spanish, "dos veinte ve." The three other members are Christian high schoolers from the youth group. They play mostly hard rock, like Skillet, Rojo, 1000 Foot Crutch. He's lovin' it.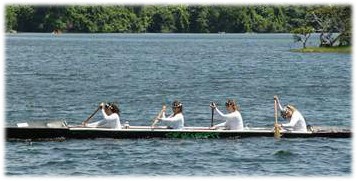 - Celina was so excited at Christmas when she opened a present and found a candy thermometer! It had been near the top of her wish list. She and a friend used it recently to make sugar rock candy.
- Gracie has been rushing to finish her school homework so she can lift weights with Dad and Anthony. We bought a starter set with barbells, dumbbells and a bench. It's really been a lot of fun to do together. Don't worry--she doesn't over do it.
We appreciate you praying for these upcoming events:
- Tomorrow we travel up the mountain for the Annual Guaymí Family retreat week, with Pastor Roy Rhodes team from Paola, KS. We were told to expect 900-1000 kids to teach out of the 4000+ Indians expected.
- FestiNiños is a special evangelistic crusade sponsored by Franklin Graham and will present the gospel to thousands of children from all across Panama on Saturday 24 February. Pray for many little "Andrews" to bring their friends to meet Jesus.
It's hard to believe that we have now completed four years of our third term as missionaries. We are extending, Lord willing, until June 2008 to coincide with Chloe's graduation from high school.
Unfortunately we are experiencing the "decay" factor. It's expected about this point in a missionary term, but never welcome. Financial support tends to drop off slightly over time. The reality for us is if our work funds go into the red, we'll need to cut back substantially on ministries.
As the Lord blesses you with a little extra, we'd appreciate the consideration of a little extra financial support during this next year to help us keep up the same ministries and even grow in our outreach and training for the children of Panama.
Clean the slate, God, so we can start the day fresh! Keep me from stupid sins, from thinking I can take over your work; Then I can start this day sun-washed, scrubbed clean of the grime of sin.
These are the words in my mouth; these are what I chew on and pray. Accept them when I place them on the morning altar, O God, my Altar-Rock, God, Priest-of-My-Altar.
Psalm 19:13-14, The Message
Your support in prayer and finance make our ministry possible. We just sent financial supporters our year-end Thank you letter. If you don't receive yours, kindly let us know. And special thanks for your consideration of a little extra to get us through this year strong financially.

Yours for Them,
Kirk for all
HOME | NEWSLETTER | MEDIA | PANAMA | FAMILY | PERSONAL | TEAMS | CONTACT US | EMAIL US