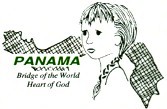 jonesjournal.org > newsletters > e-Mailer for 11/06
Dear Friends,
Greetings in Jesus! If you'd like to read past issues, click on Newsletters. This monthly e-Mailer includes updates on ministry, family, praise and prayer.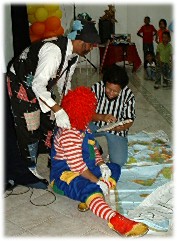 Thanks for praying for these past events:
* KidsQuest Crusade at Templo Mount Sinai, in San Miguelito. Appreciation for coordinating the Crusade goes to Taideth Guillen, a faithful sister who attends every one of our monthly seminars. Here you see the clowns at their moment of desperation in the skit "Searching for Truth." Fanny, our Games Captain, shows them in the Bible that Jesus is the Way, the Truth and the Life (John 14.6). The kids will repeat that verse with her later in the Memory Verse game and also with CJ the Bengal tiger when he comes out to do his karate dance.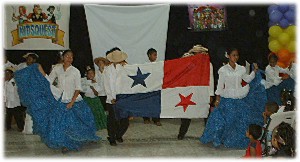 The local children's ministries team had prepared a couple of terrific songs with choreography. The final night was an *intra* national parade with costumes and dance styles from the various provinces within Panama. There were about 200 children in attendance.
We invite you to take a look at some especially cute pictures from the Crusade in this issue's Photo Album on our Media page.
* The nation-wide Referendum on 22 October went smoothly with about 80% voting "Yes" to expand the Panama Canal. That should add jobs during the next ten year construction period, plus increase revenues from bigger ships using the third set of locks once completed.
* About a week ago I sent you three urgent prayer requests for Panama. Before updating I need to make one correction: I wrote there were 42 deaths, but it should have read 38 confirmed deaths. Unfortunately, there might be ten more deaths added to that total of people who died of unknown reasons before the current investigation began.
It appears that a large batch of supposedly "pure glycerin" used by the Social Security Pharmacy to make medications, like cough syrups, was actually industrial glycerin and was contaminated with Diethylenglycol, an ingredient in radiator coolant. The good news is that the ban on suspect medicines seems to have taken effect. The number of deaths has not increased the past week.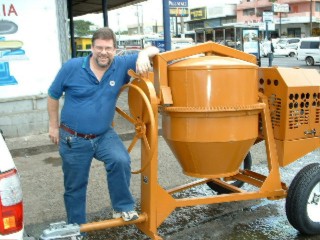 We received a generous donation for the Duima LACC school from guys who worked there last summer. They worked tirelessly mixing and pouring the cement, but said next time we need to get a cement mixer. After installing a hitch attachment and a hand crank jack, now we got one!
We appreciate your prayers for these upcoming events:
* KidsQuest Christmas Crusade on 2 December at the Orlando Winter gym. This is in the marginalized area of San Miguelito, same as last year, but it's a covered gym, not an open soccer stadium. So rain should not affect us like last year. Please pray for many kids to come and bring their unreached friends to receive the Light of the World, Jesus Christ.
* For the upcoming Children's Ministries Leaders Seminar on the second Saturday of November, Yvonne and I will deliver a small package of children's Christmas music. OK, to be honest, Yvonne will focus on the music and I on the package--CDs, lyric sheets, and program ideas. This is going to be fun, since we love the Christmas season so much! Also, Carolina Canto will share on Using Dynamic Teaching Techniques in the local church.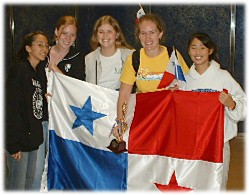 Chloe is back from the basketball tourney in Costa Rica, shown here with half the team and their 4th place trophy! In this issue's Photo Album there are a few more airport pictures of Chloe and the team coming and going.
She also brought us back some Britt coffee, sweets from Spoon's, Andes mints--lotsa the things we enjoyed from our year of language school.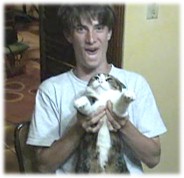 We survived Anthony's overnighter birthday party last month, plus we celebrated with the family on his actual birthday. Kiwi is seen here "playing lion" while Anthony makes her roar. You can see that and more in the video on our Media page.
Celina went to youth retreat (along with Anthony & Chloe) and said it was really sweet! Except for the stupid sunburn.
Gracie loves Wednesdays--she's with friends at school all day, then she has two hours of gymnastics in the afternoon, and then every other Wednesday she gets to play with the other kids at Mom & Dad's small group meeting.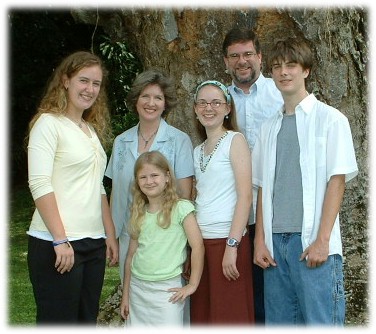 For the Christmas newsletter we did a family photo shoot at the Panama Canal Administration building. You can't see the building here, but you can admire the grounds that are kept up very well in this tropical hothouse environment. If you don't normally receive our print newsletter but would like to, just send us your mailing address.
You got me when I was an unformed youth, God, and taught me everything I know. Now I'm telling the world Your wonders;
I'll keep at it until I'm old and gray. God, don't walk off and leave me until I get out the news of Your strong right arm to this world, news of your power to the world yet to come.
Psalm 71.17-18, The Message
Thanks for the continued prayers and financial support so that more children can grow old and gray telling the world of His wonders! Boo coo blessings!

Yours for Them,
Kirk for all
HOME | NEWSLETTER | MEDIA | PANAMA | FAMILY | PERSONAL | TEAMS | CONTACT US | EMAIL US