jonesjournal.org > newsletters > e-Mailer for 9/06
Dear Friends,
Greetings in Jesus! If you'd like to read past issues, click on Newsletters. This monthly e-Mailer includes updates on ministry, family, praise and prayer.
Thanks for praying for these past events:
* Children's Ministries Leader Training
Rev. Juan Macias Torres, former Superintendent of the Assemblies of God in Ecuador, has moved here to Panama and focused his ministry on training Latin pastors and leaders for world missions. He motivated us to have a Vision for World Missions in our local churches and children's ministries.
Last month the Children's Ministries leaders surprised me on "Pastor's Day" with special songs, original poems and, of course, cake!
* KidsQuest Crusade 25-27 August in Puerto Armuelles.
This town has been suffering an economic depression since the transnational banana company moved operations across the isthmus to Changuinola, and shut down port operations.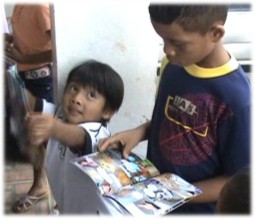 The children who came and invited their friends, however, were upbeat and very excited, along with our host Pastor Moines Ortiz. We saw 272 in attendance with about 60 new visitors. As you can see they really enjoyed the evangelistic PowerMark comic books.
Please forgive my delay in preparing the online video report for the Puerto Armuelles KidsQuest Crusade. I enjoy preparing it, and have received positive feedback, but it just takes time… I invite you view it on our Media page.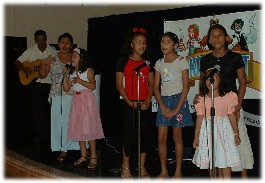 The National Children's Ministries was invited to bring a version of the KidsQuest Crusade to the Misioton 2006, which is kind of like a Telethon for World Missions. We added a few skits emphasizing missions themes, plus invited other children's ministries to share special music and ministry numbers. Beautiful kids as you can see from eight different churches used choreography, Hebrew dance and even traditional Panamanian style dance and costume to bring home the message of the importance of World Missions involvement to every believer.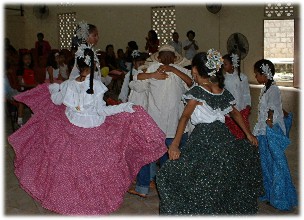 We also added our "grain of sand," as the Spanish saying goes, by teaching using a PowerPoint object lesson on illusions--the difference between what the world wants us to see and what God wants us to see.
We appreciate your prayers for these upcoming events:
* KidsQuest Crusade in the Central Zone town of Atalaya 29 September - 1 October. This area is very strongly controlled by the traditional religion and often closed to evangelical groups. Please pray that clowns, games, illusions, prizes and the Word of God can penetrate with the liberating Good News of Jesus.
* Panama will host the biannual retreat for AG missionaries in Central America during Thanksgiving week. Please be in prayer that God will minister to the 170+ missionary personnel so that each can better serve in their respective fields. Also pray for the Boyds, the Bells and us here in Panama to coordinate the event smoothly.
* Another prayer request is for our Panamanian school children affected by the public school teachers striking for over a month now. Private schools are still in session. If it wasn't so serious, the thorny issue would almost be humorous. The salary increase approved by the Government for the educators puts many of them into a new tax bracket, so that they would be taking home less money than before the raise. So now they are asking for more than twice the raise so that they'll have more take home pay. On a side note, Anthony is hoping for "riot days," which work kind of like "snow days" in the US. Unfortunately for him, none so far.
Chloe has been diligently thinking and planning for university in a couple years. She's already gone to a college fair at her high school, taken the PSAT practice tests, and last night she and Kirk went to another college fair with about 20 US universities present. Mom and Dad would appreciate your prayers for wisdom in the whole decision-making process. Chloe is really enjoying basketball practices.
Anthony was especially excited for worship band to start up again after summer break. The three big kids (I can't believe we have three youths in the house now!) had tryouts last week, which were nerve-wracking, but all three made it! Anthony on electric guitar, Chloe keyboard and Celina vocals.
Anthony wanted to be involved in some fun sports activities, and there wasn't really anything going on, so he started an after school sports club with another friend. They play a variety of sports like American football, and then run through the cemetery next to their school. The school principal said he didn't think the neighbors would mind!
Celina is very motivated to start her own business. Well, she at least has her first customer. She sewed her own book bag for school and now one of her classmates hired her to make another one.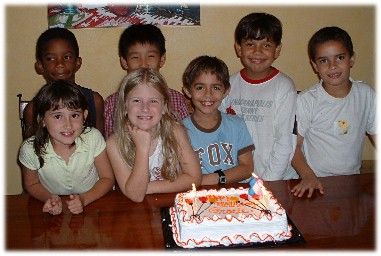 Gracie started gymnastics class last month and absolutely loves it! She runs and jumps on the vault, does handstands on the balance beam, spins around the cross bar and is learning tumbling moves. After the first class, with her face all red and hair all sweaty she was all smiles ready to do it all over again.
Gracie's 8th birthday was yesterday, the 19th! She's pictured here with some of her friends from the party on Saturday. The big deal was getting her ears pierced -- with her mom! Beforehand Yvonne said, "If I can have four babies, this is nothing." So Gracie got back up in the chair for the second time and got her ears pierced too. Walking out the door she said, "Now *I* can have four babies!"
Our print newsletter should be arriving soon, if you are on the mailing list. If not and you'd like to be, feel free to let us know and we'll add you. If you'd like to see the online version now you can go to the Newsletter page.
So roll up your sleeves, put your mind in gear, be totally ready to receive the gift that's coming when Jesus arrives.
Don't lazily slip back into those old grooves of evil, doing just what you feel like doing. You didn't know any better then; you do now.
As obedient children, let yourselves be pulled into a way of life shaped by God's life, a life energetic and blazing with holiness. God said, "I am holy; you be holy."
1 Peter 1:13-16, The Message
One time I heard a sister in the Lord express her thanks for a shower of gifts by saying, "my mouth is too small to say the thanks I feel in my heart." I'll try adapt the same idea for use in this e-Mailer by saying my bandwidth is too narrow to transmit the gratitude we feel. Thanks for your prayers and financial support.

Yours for Them,
Kirk for all
HOME | NEWSLETTER | MEDIA | PANAMA | FAMILY | PERSONAL | TEAMS | CONTACT US | EMAIL US