jonesjournal.org > newsletters > e-Mailer for 8/06
Dear Friends,
Greetings in Jesus! If you'd like to read past issues, click on Newsletters. This monthly e-Mailer includes updates on ministry, family, praise and prayer.
Thanks for praying for these past events: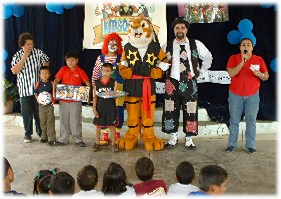 * KidsQuest Crusade and Leader Training in Metetí, Darién jungle province (first time in that eastern province, which borders Colombia) 15-16 July, falling on Children's Day Sunday. Our Panamanian missionary Misael Concepcion was our host pastor.
Total attendance was 234, with over 200 being newcomers to the church. Our visitor campaign winners, seen here with the cast, worked extra hard to earn their prizes by inviting 78 children between them.
We rejoiced to hear that quite a few Emberá indian children came by bus from outlying villages, and many even rented outboard motor boats to travel over an hour each way over the ocean "highway" that connects many of these Darién villages.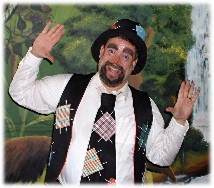 Along with these children came their Sunday School teachers. So even though the Teacher training was planned for Sunday afternoon, since these committed leaders could only come Saturday, we felt compelled to minister with them too, plus another Seminar the next day. So it was a weekend that "squeezed the juice out of us," as they say in good Panamanian expression.
Thank you for your prayers that many children came to know Jesus. In last month's e-Mailer you may remember my last-minute request was to find a replacement clown for Ding. We finally did -- me! That's why the clown looks especially "funny."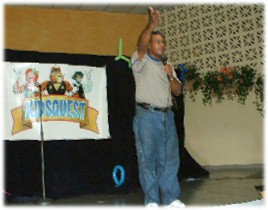 * The following weekend was the KidsQuest Crusade in the El Shaddai church here in Panama City with our host, Manuel Miranda, who plays the Ninja tiger "CJ." You see him here out of costume serving as Emcee.
This particular church holds a special place in my heart. When I first met Pastor Jorge Echazabal several years ago, he told me that the church had begun as a neighborhood Bible class on a street just a couple blocks away. A dear sister in another AG church felt like the kids on her street needed to hear about Jesus, so she told them. That grew into a Bible study for kids and adults, then later an organized Assemblies of God church. A few of those first children, now adults, serve on the church board. That's a tremendous example of our ministry slogan "children reaching children," even across generational lines.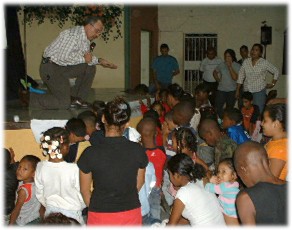 The visitor campaign yielded fruit in about 25 kids who had never been in church before--and it showed! We had to post guards at the prize table, literally! Pastor Jorge prayed with these new-to-church kids as they knelt to receive Jesus as Savior. The church has already established a new beginners class for these kids to grow in their new faith.
* Annual Ministers Retreat: I thank our faithful team member Fanny Quinzada for helping me to minister once again with our minister's kids and grandkids during the Retreat 30 July - 2 August.
We appreciate your prayers for these upcoming events:
* KidsQuest Crusade 25-27 September in Puerto Armuelles, the NW corner of Panamá that borders with Costa Rica. Our regular clown "Ding" will be traveling with us, thank the Lord! As you pray for children to come to know Jesus, please also pray for God's blessing on this economically depressed area. The town has been suffering since the Banana company moved most of its operations across the isthmus to Changuinola (see Crusade report in e-Mailer for 6/06).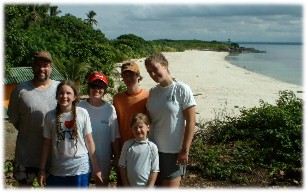 Our family thoroughly enjoyed a few days vacation in Pedasí and the beautiful beaches near the southernmost tip of Panama.
We got to enjoy this sugar-white sand beach on Isla Iguana. It's a small island about a half-hour boat ride off the coast with incredible snorkeling! We saw hundreds of fish close up. Some friends went there the following day and saw a large group of humpback whales on the ride back to shore.
Chloe is adjusting back to school schedule. She is really enjoying basketball practices again, with a view to a tournament in Costa Rica in October. She's also looking forward to college and has begun investigating where she might go and what she might major in. I'm sure she'd appreciate your prayers for wisdom.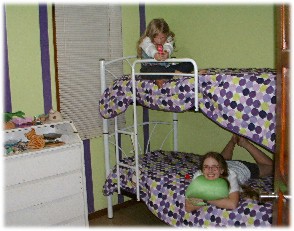 Anthony and Gracie and I went for a bike ride on the Causeway one of the last days of summer vacation. Just before turning in the rented bikes, I challenged Anthony to a race. At first I was winning, then he pulled ahead. Right at our "finish line" there was a pothole in the sidewalk that neither of us had seen. Anthony didn't have time to turn, and he later said he didn't want to make me crash by swerving, so he hit it straight on at top speed. Both tires immediately popped. He went flying over the handlebars and skidded to a stop about 15 feet later. He scraped up his left side pretty good, but escaped broken bones. Walking back he asked what it looked like when he crashed. I said my heart stopped watching you fly off the bike. "But did it look cool?" he insisted.
Celina repainted her room from the original graffiti art deco she did when we first moved in to a lime green and purple. She also got matching bedspreads for the newly added bunk beds, all to welcome Gracie, her new roomie. Yvonne and Chloe helped a lot with the project. Celina has also been making and even selling handmade bookbags for textbooks.
For the first time in her school life, Gracie has a man teacher, Mr. Miller. Both Anthony and Celina had him in years past too. He's a good teacher and a fun person to be around. Please join us in praying for him and all our kids' teachers at Crossroads Christian Academy for Anthony, Celina and Gracie, and at Balboa Academy for Chloe.
All the kids are back in school, looking excited here on the first day! After the first homework started piling up the excitement wore out a little ;-).
Over the past few months you can probably tell that I'm working through the Psalms in my Bible reading. There's so much real human emotion and divine wisdom packed in there. Hope this nugget inspires you as it did me:
And let the loveliness of our Lord, our God, rest on us,
confirming the work that we do.
Oh, yes.
Affirm the work that we do!
Psalm 90:17, The Message
Thanks for your prayers and finance. With God's affirmation and your support we rest in the work that we do! Many blessings!

Yours for Them,
Kirk for all
HOME | NEWSLETTER | MEDIA | PANAMA | FAMILY | PERSONAL | TEAMS | CONTACT US | EMAIL US