Jones Journal Monthly e-Mailer for September 2003
Dear Friends,

Greetings in Jesus! If you'd like to read this e-Mailer with photos, or see past issues, click on "Ministry" at www.jonesjournal.org. This includes updates on ministry, family, praise and prayer.

Ministry:

* Last month I mentioned Bible School student Lina Baker's project called "Imprints" (Huellas) children's ministries. I did the inauguration service for them on Sunday 8/10. There was a great spirit of expectation. Her leaders were enthusiastic and positive. The turn out of unreached kids from the community was not as large as they had hoped. As her advisor I suggested that they also train the churched kids to reach the unchurched kids.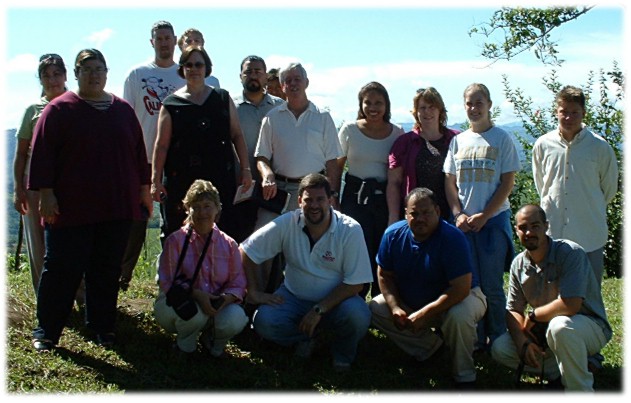 * The team from Riverside Family Praise Fellowship did a great job on their "rookie" missions adventure. They displayed great attitude as learners. My thanks to Youth Pastor Keven Petty and Missions Coordinator Lynda Botsford.

They travelled to the LACC school and church in Duíma (pictured here with gorgeous valley background), in cramped quarters, in the missionary field van, without complaining. Though later Pastor Keven admitted to being thoroughly embarrased when he got passed going uphill by two fully-loaded semis. Anybody at Speed-the-Light listening...? :-)

In work, they held a basic medical clinic for children and adults, providing vitamins, cold/pain meds, worm and lice treatment. They also distributed to all the children toothbrush/paste and HealthCare Ministries booklet "You Can Be Healthy." We estimate 75+ children, plus parents, received attention. They leveled the dirt floors in one classroom, plus the three rooms of the parsonage. The concrete floor was poored in the classroom, and started in one of the parsonage rooms. We were delayed by weather, and by the electric generator plant going out, which stopped the hired workers from finishing the zinc roof. Not to worry--the team provided funds that will finish the job!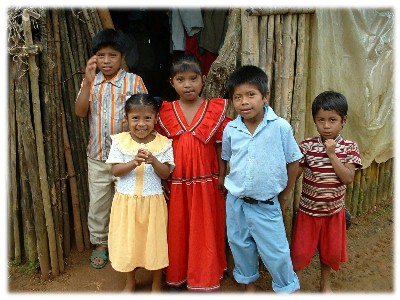 Miracle of the Second Hut - Part 2

We visited some of the nearby homes in Duíma. Halfway through our tour I realized we were in front of the same two houses from our first visit in 5/95 and reported in 4/96 newsletter under "The Miracle of the Second Hut." Feel free to visit Newsletter section to review.

The family in the first hut didn't want to speak because their 6-month old baby died the day before. The family in the second hut all prayed to accept Jesus. Now here's the continuation of that story.

You're looking at Samuel, Vielkita, Betsaida, Miguel & Darío in front of theirs, the second hut. All attend our school, church services and receive daily meals.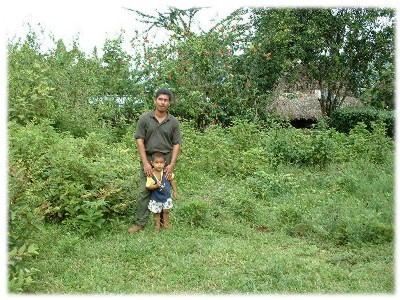 At the first hut, Pastor César told us the mother had lost a couple more babies after the one that had just died when first we visited. He also told us that this family, and others, practiced a form of animistic religious tradition. They had received some books with strange hieroglyphic-type inscriptions. They believed they would be able to understand them by magic some day. After each death, Pastor César held a Christian funeral service for the child's family. As they became interested in the gospel, they wanted to get rid of their religious books. They burned them along with the chapel-shrine that had been used for their animistic traditions.

Since that event, the first hut family has had two new babies born, and live! That's the power of the Gospel Message of Jesus! César and his son César Abdías are standing in front of the empty lot that was the chapel-shrine.

You can see the complete itinerary and team report with pictures in Team section. Click on "Riverside Family Praise Fellowship."

Family:

All our kids started school in early August. They enjoy their new teachers and have gotten into the new schedule.

Chloe (and 30 close friends!) had her sugar party, receiving $100 for going one year without processed sugar!

Praises:

* We are grateful for God's protection. On 8/13, we were awakened at 3.30am by dogs barking and a "roar" that preceded a 5.3 earthquake. That's very unusual for Panamá, known to be "earthquake-free." It's one of the reasons it was originally selected over Nicaragua for the location of the Canal.

* Rosa, who is now 70 years young, has been a part of our family even before we brought Anthony home from the hospital and we introduced him as her "adopted grandson." Let me share what Rosa told me when she arrived this past Thursday. On Tuesday night before she left she couldn't raise her right arm without using her other hand for strength and due to much pain. We were having Family Night and about to pray anyway, so I asked if we could pray for her. We did. She had a doctor's appointment the next day, Wednesday.

So she showed up Thursday morning with a big smile on her face. After greeting me she said she had something to share with me. Then she raised her right arm straight up in the air. No pain! God healed her! She had asked the doctor if he believed in divine healing, then explained why she asked him. She said with tears welling up in her eyes it was the first time in her life she had experienced something like this. We rejoice with her in God's healing power!

Prayers:

* For our monthly training of Children's Ministries leaders each first Saturday of the month.

* Earthquake aside, we will gladly accept your prayers for continued protection at home, on travel and in ministry.

* From Pismo Beach, CA Pastor Michael Etteddgue, Aaron Bull and Alan Granski are coming to visit and minister in various churches late this month-early next, including preaching at Hosanna, our largest church here in Panamá.

Sorry for going a bit long. I felt I couldn't leave any of it out.

Thanks for your prayers and interest in our ministry. Thanks for those who support us financially every month. I thought of you especially this month. I'm looking forward to sending you our year-end thank you letter, after the year ends, of course. I just bought the little gift I'll include--it'll go great with what we sent last year! How's that for a teaser!?!

God bless all!

Yours for Them,

Kirk for all