Jones Journal Monthly e-Mailer for May 2003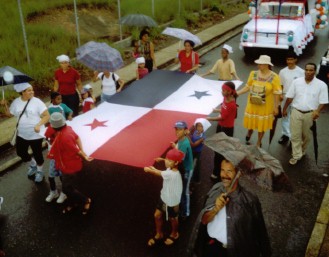 Dear Friends,
Greetings in Jesus! If you'd like to read this e-Mailer, or see past issues with photos, click on "Ministry" at www.jonesjournal.org. This includes updates on ministry, family, praise and prayer.
I apologize for not getting the April edition of this e-Mailer out. We were busy, true, but I just got a case of writer's block.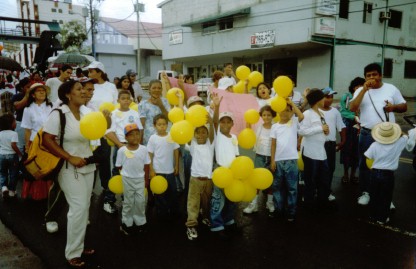 * The Centenario Parade for Children's Ministries on Sunday, 27th of April was a great success. I will put together a full story online. Let me sum up here by reporting that we had about 1000 participate. The Royal Rangers color guard marched. The Missionettes shone in their bright pastel-colored uniforms (still in use in Latin America). Castle of the King ministered in song and drama. We even had a surprise greeting from our Superintendent, Rev. Lowell David. And the presence of God was felt very strong as we prayed for Panamá, her children, and our children's ministers.

* District Youth Director Drew Smithson interviewed us by Internet video and phone at the SCDC District Council Speed-the-Light Banquet. Thanking the great folks for helping put wheels under their missionaries, I asked them to pray for good weather for the Parade the following Sunday. I won't say they didn't pray hard enough, but we did have a persistent light rain. All around the parade route we heard thunder and later reports of an "aguacero" (torrential downpour).
* Our latest newsletter is now online in Adobe pdf format. Click on "Newsletters" at www.jonesjournal.org.
* Rookie is our new dog. As I mention in the newsletter, he's a mutt--part German Shepherd, part Golden Lab, and part pooping machine! I don't know if this qualifies as a legitimate prayer request, but I know Yvonne would love to see God do a miracle there.
She had bought Chloe the book, "Training the Perfect Puppy," when we were in the States as a promise of the dog we would get here in Panamá. Recently Yvonne said, "I know now why this isn't working--we didn't start with the perfect puppy!"
* This afternoon our three big kids had a basketball game. Gracie played on the sidelines with her buddy Anna. Anthony and Celina play on two different teams from their school, Crossroads Christian Academy. Chloe helps out as an assistant coach. They played the teams from Balboa Academy, Chloe's school. Dad helped ref, which is tough when you see your own kid get knocked to the floor and the other ref won't call a flagrant foul! But I digress. Celina's team won and Anthony's lost. We celebrated at McDonald's with other team members, so it was all good!
* Tomorrow & Sunday afternoon is a city-wide crusade with Benny Hinn and his ministry team. It's basically the AG that is organizing the cruzade, to be held at the National Stadium--the new baseball/concert venue, biggest arena in town. I have been asked to join the translatation team for some of the English-speakers on the ministry team.
We are truly looking forward to many people being saved, healed, delivered, and empowered for Jesus. I hope myself and my family will likewise be touched in a new and powerful way by the Lord. We appreciate your prayers: if you read this note before the cruzade--for salvations; if after--for follow up.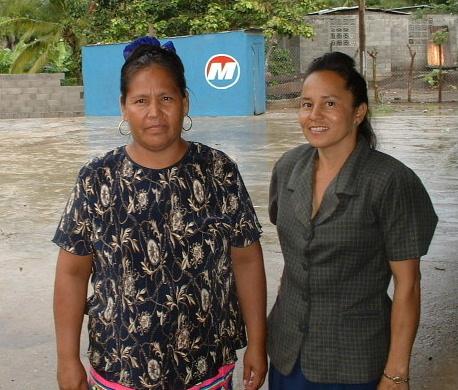 * At the end of this month Project Compassion medical team from San Diego will be bringing 26 doctors and nurses and support staff to minister medicine and the message of salvation to the poorest in Panamá City and outlying areas.
Pictured here are Pastora Martina de Quinzada and Emberá Community Representative Anayansi Bacarizo standing where one of the clinics will be held. We especially covet your prayers for effective ministry to take place and for people's lives to be changed eternally.
Thanks for your prayers, finances and support. God bless you.
Yours for Them,
Kirk for all