Jones Journal Monthly e-Mailer for October 2002

Dear Friends,
Greetings in Jesus! The purpose of this monthly e-mail is to share updates on ministry, family, praise and prayer.
If you'd like to read this e-Mailer, or see a past issue with photos, click on "Ministry" at www.jonesjournal.org.
Our September 2002 newsletter went to print after the previous e-Mailer. If you'd like to see it, or other newsletters, they are now online in the usual html format and additionally in Adobe Acrobat Reader (pdf).
I've added a new "Media" section where you can see a short video and Power Point presentations of our deputation ministry and the Duima LACC project.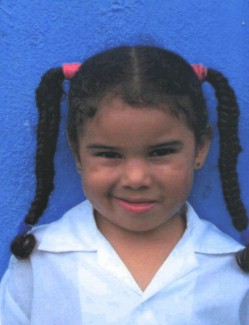 To update on Latin America ChildCare (LACC) sponsorships, there are 67 new sponsors, for children in Duíma mostly, and some sponsored additional children. If you are interested in investing $28 a month to make a difference in the life of a Panamanian child, there are still over 200 more children in Panamá who need sponsors. Let us know.
It was my privilege to help connect a sponsor with Ana Sarai Rivera (pictured), the daughter of Duíma's pastor-director, Cesar & Ana Rivera. I remember how her father first heard that she was born over the Christian AM radio station because he was heading down the mountain toward the hospital. I remember the baby shower the Ventura First AG gave her. I remember her at two running away scared of me when I tried to run up and get a hug. Her face tells the story of Jesus' love!
Unfortunately for us, this past month we've had few services, due to the unexpected extension. So I've been scheduling to fill services. A few pastors have called me to schedule--a welcome surprise!
The bulk of my time has been spent calling back Pastors from 6am (yes, on the East Coast--give me some credit!) on into the afternoon. I gotta admit, I've gotten very sleepy some afternoons, especially on days when Gracie woke us up screaming at 3am!
To date, we've held 128 services and had 70 appointments with pastors. Currently we have 145 supporters providing monthly pledges totaling $8301.50 of the $10,209 needed. Cash budget is about $37,174 of the $47,842 needed.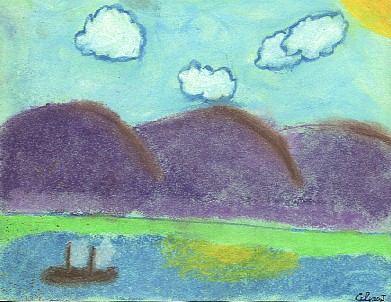 Chloe has adapted very well into Middle School life! She joined in for prayer at "See You At The Pole" (www.syatp.com) and attends a campus Bible Study. She loves her teachers and is studying hard. Thanks for praying
Anthony's life right now is football. We got him onto a team, a little late, but he feels plugged in now. So for him it's school, homework, practice, dinner, and bed. He plays offensive line and is so proud of his bruises!
Celina has an art class one day per week where she learns new techniques and gets to practice in new media. She said she really liked working with pastels. I think they're kind of like chalk. Her and Chloe's bedroom now resembles an avant garde gallery.



Gracie, nightmares aside, is very much an active four-year-old. She had a fun-filled birthday party with all kinds of games--musical chairs, Simon says, Duck-Duck-Goose, Red-light Green-light, you name it! Even "Gracie's Clues," with her hand-prints on clues.
My choice for the closing scripture passage comes from a letter of encouragement I received from a supporting church in New Jersey:
Psalm 67:1-7
1 God be gracious to us and bless us, And cause His face to shine upon us-- Selah.
2 That Your way may be known on the earth, Your salvation among all nations.
3 Let the peoples praise You, O God; Let all the peoples praise You.
4 Let the nations be glad and sing for joy; For You will judge the peoples with uprightness And guide the nations on the earth. Selah.
5 Let the peoples praise You, O God; Let all the peoples praise You.
6 The earth has yielded its produce; God, our God, blesses us.
7 God blesses us, That all the ends of the earth may fear Him.
Thank you for your prayers and financial support that make our ministry possible.
God bless you. Yours for Them,
Kirk for all