Riverside Family Praise Fellowship
Panamá Missions Trip
15 - 26 August 2003

Itinerary and Photo Report below or W. J. Bennett Photo gallery (team photographer)
(click on Itinerary text links to see corresponding pictures)


Ministry contacts:

1. César & Ana Rivera, Duíma in Chiriquí province
These choice servants are the pioneer pastors of the church and directors of Latin America Childcare Good Shepherd school in the mountain village of Duíma.

2. Alfredo & Edilma Villarreal, (hm: 770-6080 ; chu: 770-6303) Concepción, Chiriquí
These lifelong, faithful servants of the Lord are some of our dearest friends. Edilma is our Rep. for Children's Ministries in Chiriquí. Alfredo is one of the pioneer pastors of the Assemblies of God in Chiriquí.

3. Elías Chumo (607-8707, msg: 234-3877) and Regina de Guizado (234-9487), San Miguelito district of Panamá City
Both are brave pastors working in very humble surroundings.
We've constructed a temple for Elías and Regina has been our Bible School student plus we've sent ministry groups to her home and church.

Emergency contact:

Kirk Antonio Jones
Cell: 011-507-655-7989; Home: 011-507-279-1048; FAX: 011-507-260-1048
Pastor César Rivera
Cell: 011-507-627-8968, 011-507-602-5363 (if no answer from Kirk's cell)


Date itinerary prepared: 8/13/2003 9:45 PM
---
Photo Report
Construction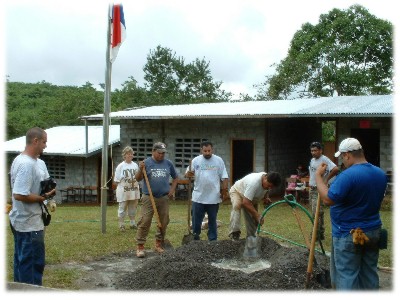 mixing concrete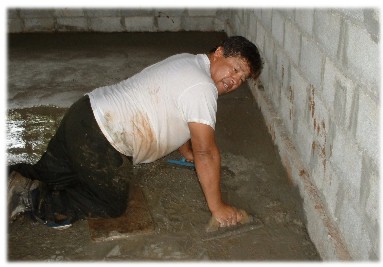 Isaí laying classroom floor

panoramic view of new and old buildings in Duíma
---
Ministry
Medical Clinic in Duíma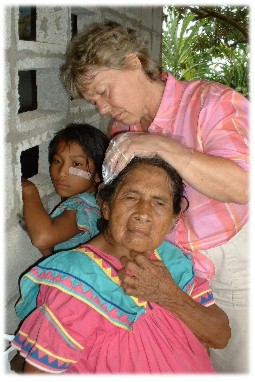 Mary doing lice treatment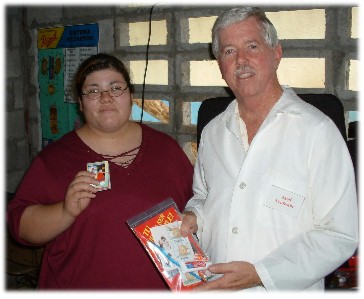 Marie & Larry handing out toothbrush/paste with HealthCare booklet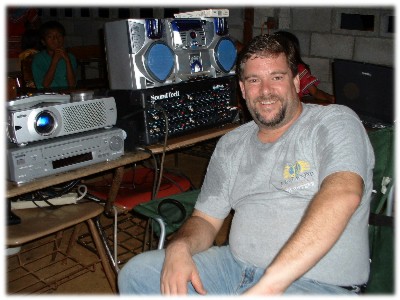 Kirk with audio-video equipment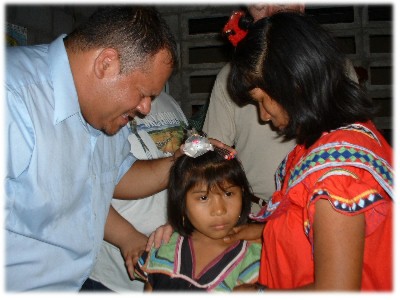 Elvin praying for the sick in Duíma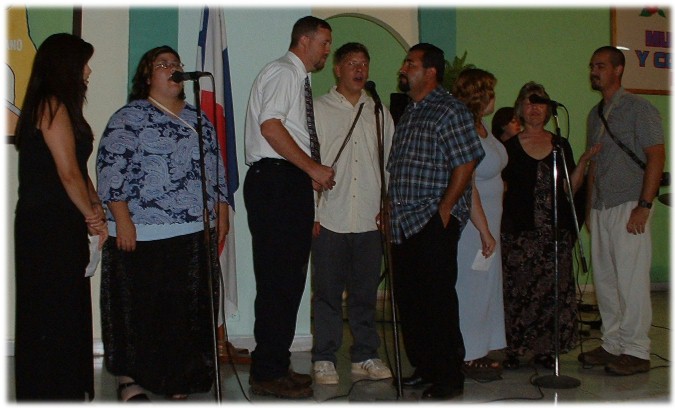 Group music ministry in Bugaba
---
Duíma Follow Up...eight years later!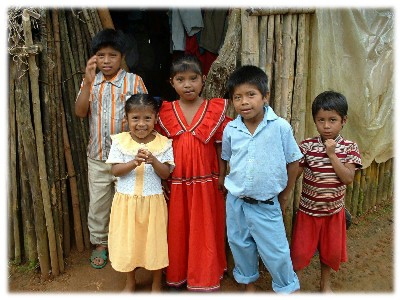 Miracle of the Second Hut - Part 2
We visited some of the nearby homes in Duíma. Halfway through our tour I realized we were in front of the same two houses from our first visit in 5/95 and reported in 4/96 newsletter under "The Miracle of the Second Hut." Feel free to visit Newsletter section to review.
The family in the first hut didn't want to speak because their 6-month old baby died the day before. The family in the second hut all prayed to accept Jesus. Now here's the continuation of that story.
You're looking at Samuel, Vielkita, Betsaida, Miguel & Darío in front of theirs, the second hut. All attend our school, church services and receive daily meals.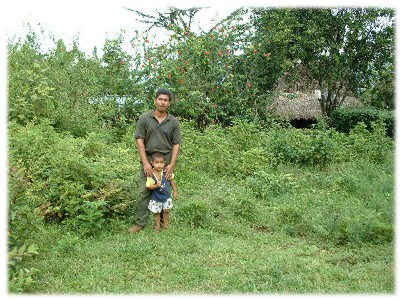 At the first hut, Pastor César told us the mother had lost a couple more babies after the one that had just died when first we visited. He also told us that this family, and others, practiced a form of animistic religious tradition. They had received some books with strange hieroglyphic-type inscriptions. They believed they would be able to understand them by magic some day. After each death, Pastor César held a Christian funeral service for the child's family. As they became interested in the gospel, they wanted to get rid of their religious books. They burned them along with the chapel-shrine that had been used for their animistic traditions.
Since that event, the first hut family has had two new babies born, and live! That's the power of the Gospel Message of Jesus! César and his son César Abdías are standing in front of the empty lot that was the chapel-shrine.
(also reported in e-Mailer for 9/03)
---
Free Days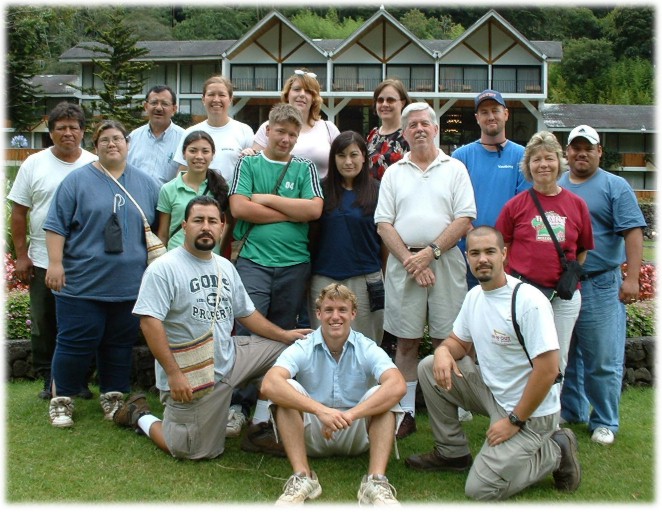 Bambito Hotel, Volcán, Chiriquí province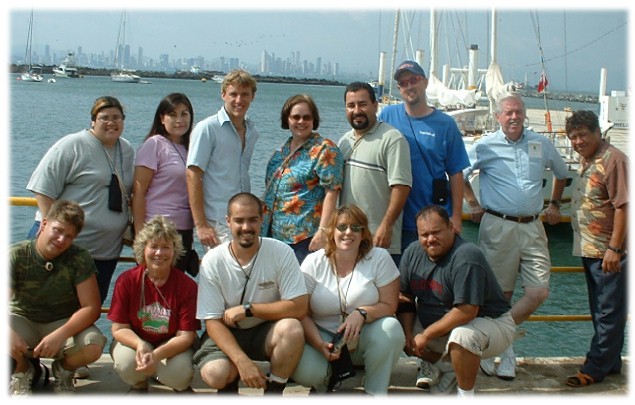 At the Causeway, Bay of Panamá City in the background
---
Pastors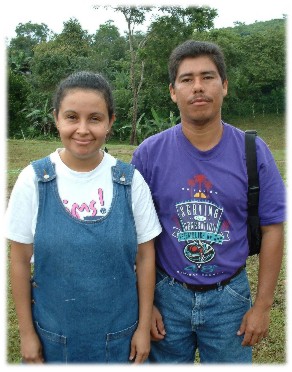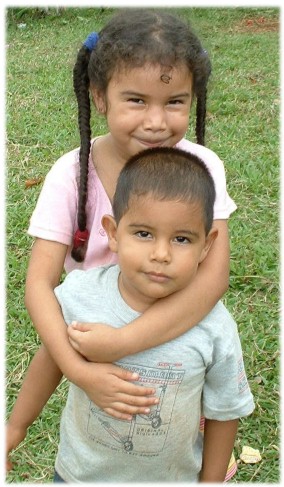 César & Ana Rivera family: Ana Saraí & César Abdías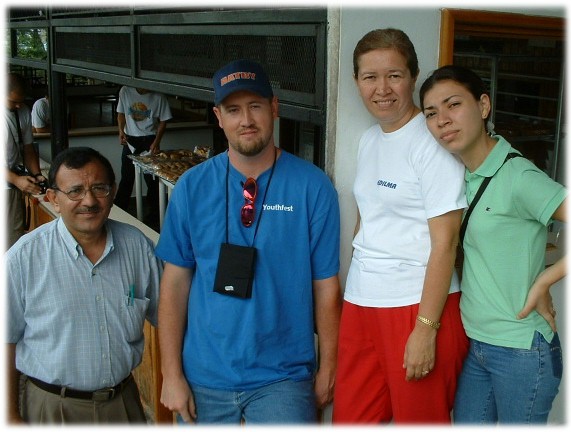 Alfredo & Edilma Villarreal family (daughter Natalia), Concepción de Bugaba, Chiriquí province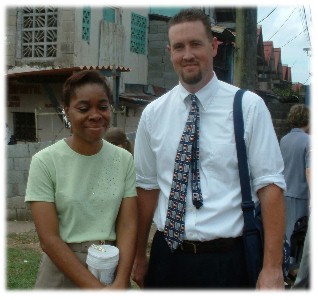 Regina de Guisado, district of San Miguelito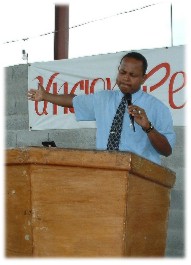 Elías Chumo, district of San Miguelito
---

See also W. J. Bennett Photo gallery (team photographer).

Date report prepared: 8/31/03

Power Point presentation of 15 Duíma children needing a sponsor, plus more of the team in action.