Pastor Michael Etteddgue, et al
Panamá Missions Trip
25 September - 3 October 2003

Itinerary and Photo Report below (click on Itinerary text links to see corresponding pictures)


Date
Activity
Location, Lodging, Etc.
Thu 25 Sep
Arrival 12.30pm
Jones home
Fri 26 Sep
Trip prep shopping
Visit Café Ruiz @ World Trade Center, John Albritton (appt 10/1 aftn)
7.30pm Mike preach @ Hosanna, Kennedy interpret
Jones home
Sat 27 Sep
Tourist Day:
9am Panamá Canal theater reserved
Ruins of Old Panamá
Causeway lunch
typical tourist shopping
Jones home
Sun 28 Sep
10.00am Mike preach @ San Miguelito, Pastor Alexis Esquivel; puente Villa Lucre, past McDonald's, end-R, T. on R
watch FOOTBALL!!!
Jones home
Mon 29 Sep
8.00am chapel Crossroads Christian Academy
Travel - Duíma (8 hours)
Tour village and LACC school
Church service: Aaron/Kirk--kids, Mike--adults
(Video tape FOOTBALL!!!)
Duíma, sleeping bags, tents
Tue 30 Sep
Travel - Boquete (4 hours)
Aftn Appointment: Richard Ellis (Braswell's)
7.00pm Mike et al preach @ Boquete AG church, Pastor Ivan Ríos
Hotel Fundadores 720-1298
5 beds $44, res'd-Nivia
before AG church, Texaco R, hotel L
Wed 1 Oct
Visit coffee plantations
9am David Garrido
2pm John Albritton Café Ruiz
Hotel Fundadores 720-1298
Thu 2 Oct
Travel - Panamá (8 hours)
Rest, hang with family
Joneses
Fri 3 Oct
Departure 8.30am
Contacts:
Apóstol Edwin Alvarez, Comunidad Misionera Apostólica Hosanna

Pastor Alexis Esquivel, 680-6221 (cell), 266-5453 (hm?)

David & Lisa Harrill, Crossroads Christian Academy, 317-9774 (office)

Duíma church/school: Pastor César Rivera, 627-8968, 602-5363 (cell)

Café Ruiz, John Albritton Carbone, 265-0779 (store), 614-5970 (cell)

Café exporter: David Garrido, 775-0032, 775-1938 (offices in David), 672-8701 (cell), Boquete

(Braswell's) Jennifer Kosiarski, 613-4083 (cell), 300-1096; Richard Ellis, 615-2795 (cell), 776-0836 Boquete; pass Dolega, 3 km on R, "Cafetelera Rio Coché"

Pastor Ivan Ríos, 720-1028 (chu), 620-4650 (cell), Pastor AG church in Boquete

Serafin Contreras, FourSquare Panamá, 269-5463 (office), 676-5802 (cell); will be out of country 9/23 - 10/2; recommends contacting:

Roger Blanda, Operation Mobilization, coordinates FourSquare teams in Panamá, 641-4537 (cell)


Emergency contact:

Kirk Antonio Jones
Cell: 011-507-655-7989; Home: 011-507-279-1048; FAX: 011-507-260-1048

Date prepared: 9/23/2003 9:36 PM

---
Photo Report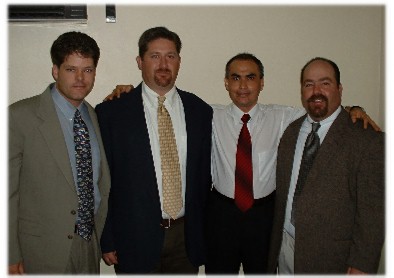 With Apostle Edwin Alvarez after ministering in his church, Hosanna Apostolic Missionary Community.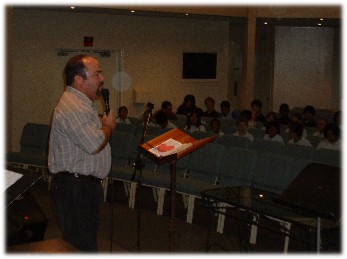 Pastor Michael Michael (as our kids know him) sharing about David's heart in chapel at Crossroads Christian Academy.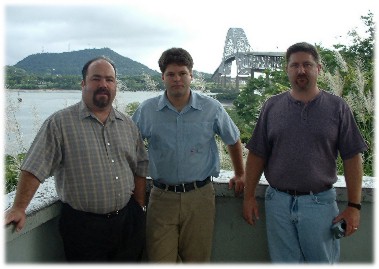 Michael, Aaron & Allen at the Bridge of the Americas as we head towards Duíma and Boquete.

Seeing first-hand how the Guaymi indians make the chakara bags. All three received one as a parting gift.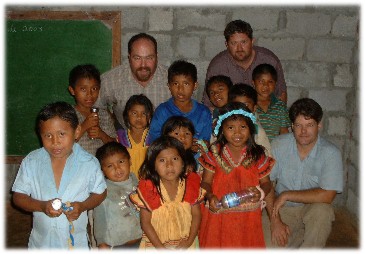 With some of the kids in Duíma.

Michael and Kirk at the View Point overlooking Boquete.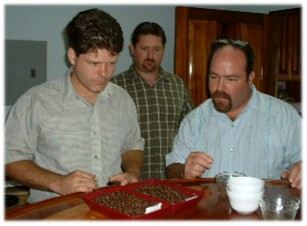 The guys enjoying their first "Cupping" session at a coffee plantation.

Photo Report prepared 10/7/03 6:25pm