Jones Journal Monthly e-Mailer for December 2003
Dear Friends,

Greetings in Jesus! If you'd like to read this e-Mailer with photos, or see past issues, click on "Ministry" at www.jonesjournal.org. This includes updates on ministry, family, praise and prayer.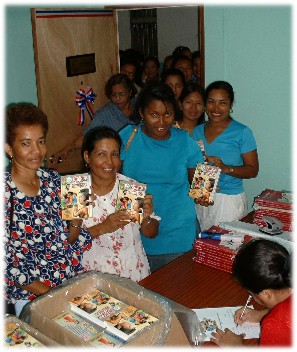 Last month at our monthly leaders meeting we were able to contribute two beautiful Children's Bibles for each church represented. Special thanks to supporters of Light-for-the-Lost (LFTL) literature. Today we handed out Christmas tracts for the December meeting.

The week of Thanksgiving, Pastor Edwin Alvarez invited me and Pastor Bill Wilbur (American Pastor in Gamboa) to share about Thanksgiving on his Hosanna Vision TV program. I used historical documents to show how the original intent of Thanksgiving was for Prayer, Praise and Penitence. I translated for Pastor Bill who shared among other things how the Indian Squanto was saved from death himself, albeit enslaved for awhile, and then returned to Plymouth where he helped save the Pilgrims after their first devastating winter. Response by phone during the program showed that God really touched some people's lives. Also, I bumped into people all week—our mechanic, on the street, in the US Consulate, at our Ministry office, on the phone—who saw the show. It gave me opportunities to share with unbelievers the Reason for Thanksgiving.

While visiting one of our larger churches, I noticed very attractive photo banners from AGWM's Missions Theme of several years ago. There was no text, so language wasn't an issue. I'm not sure where the pastor got them, but it made me think, "Why not recycle US Missions material for the growing Missions Department here in Panamá?" About a month ago I assisted Director Efraím Arosemena in the National Missions Department Banquet. We projected DVD NewsBreak promos in Spanish produced by AGWM about some of the hot spots in missions around the world. They were extremely well received.

We might as well make use of every resource available. So, Pastor, if you have banners or other missions promo materials you are just going to toss or put away in storage, why not recycle them? Drop us a line and we'll arrange delivery.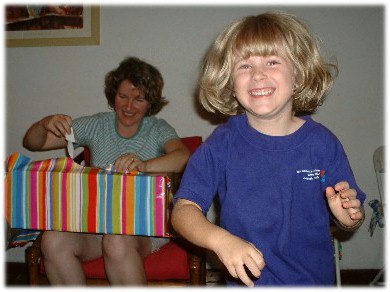 One benefit of life in Latin American for Yvonne is that she gets *two* Mother's Days. We celebrate the US holiday in May, but also here it falls on December 8 th . Often families will go to great lengths to honor Mom: hire serenaders to come at 3:00am (Yvonne made it clear that's one honor she doesn't deserve), prepare huge feasts, buy expensive gifts, spend the whole day at Mom's house. As you can see we celebrated today a couple days early with a few gifts for Yvonne. Gracie helped wrap them and put them all in a bigger box. She was more excited than Yvonne to open it!

We joke that during November, the kids hardly go to school. For example, last weekend our kids had a 5 day weekend—Thanksgiving Thursday/Friday (US) and Independence from Spain Monday (Panama).

Here are the national patriotic holidays in November. Some communities celebrate additional days.
1 - Day of the Child
2 - Day of the Dead (well, not really "patriotic," but loved ones are remembered)
3 - Independence from Columbia in 1903 (marching band parades)
4 - Flag day (bigger marching band parades)
10 - Grito deLos Santos (interior province) in 1821 by the mythical Rufina Alfaro
28 - Independence from Spain in 1821 (part of Bolívar's Gran Colombia )

Christmas will be a little more festive and healthy for the kids at the LACC school in Duíma—thanks to Riverside Family Praise Fellowship. They provided an extra love offering for a party, and a year's supply of vitamins for each child. Thanks so much, guys. I guess that's what a missions trip can do to you!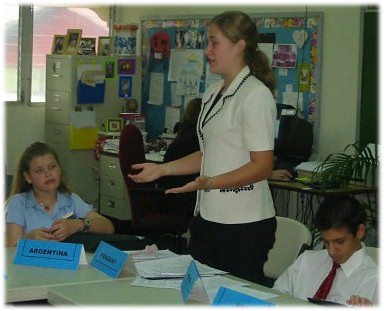 Chloe participated in a mock UN-style debate, representing Paraguay on the issue of Family violence.

We'd appreciate your prayers during the preparations for the KidsQuest International Training and Crusade in March – April 2004. We're finalizing securing leadership team, central stadium, and promo materials for this event that will join our second annual city-wide parade.

Our Christmas newsletter should have been received before Thanksgiving. Let us know if you didn't get one, or would like to receive them from now on. You can also read it online in our website > Newsletter section.

During Family Night last week, we set up Advent candles and talked about "Prophecy." In kids' terms, that means "God keeps His promises." We made a Hope Chain -- on the links we wrote some of our favorite promises from God in the Bible. Gracie drew sheep, camels, Mary, Joseph and Baby Jesus.

In that Christmas light, let us wish each and every one of you the Most Glorious Christmas and Blessed New Year! ¡Feliz Navidad y Próspero Año Nuevo!

God promised He would send His Son the Messiah –
and He came!

God promised His Son the King would return –
and He will!

Thank you for making it possible for us to participate in a small way to prepare for His Second Coming. Your prayers and finances to that end are much appreciated.

Yours for Them,

Kirk for all