Jones Journal Monthly e-Mailer for March 2003

Dear Friends,

Greetings in Jesus! If you'd like to read this e-Mailer with photos, or see a past issue, click on "Ministry" at www.jonesjournal.org. This includes updates on ministry, family, praise and prayer.

Panamá is in the middle of Carnival, known as Mardi Gras in the US. It lasts from Saturday to next Tuesday. The overt purpose is to let loose before Ash Wednesday and the restrictions of Lent begin ("Lent" is the 40 day period for repentance and reflection before Resurrection Sunday). To give you a better idea of Carnival, let me repeat what we heard in the sermon this morning: Panamá reports a marked increase in the birthrate 9 months after Carnival.

Many of our AG churches take this time for spiritual retreats or evangelistic crusades. We are taking advantage of everything being closed to rest and relax as a family. We'd appreciate your prayers for release of ministry by our churches and binding the spirit of loose living all across the nation.

We're close to being settled into the house and routine of school, sports, ministry meetings and church services. Chloe is playing basketball on the High School varsity team. Only 7 girls went out for all of the 7th - 12th grade secondary school, so that's the team. It's been a challenge for her to be in a building mode when she had been on such strong teams before.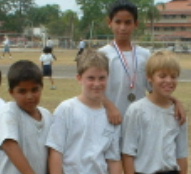 Anthony and three classmates won the first (and perhaps only) gold medal for Crossroads Christian Academy in the 440 relay event. It was in a 3-school track and field day. I'll try get the video up and running on the Media section, if you'd like to see that as well as this photo.

Gracie has enjoyed her 3 hours of "escuela" every day. It's a Spanish-intensive program for gringo kids to learn. About once a week the teacher tells us the latest that Gracie has done to make her laugh.

Yvonne has plugged into another ladies Bible study. She really enjoys the fellowship and the spiritual nourishment.

In ministry, I tag-teamed with our assistant Director, Manuel Miranda (hopefully you remember meeting him via our Power Point slides) to do the closing service for a VBS with Pastor Robinson Avila.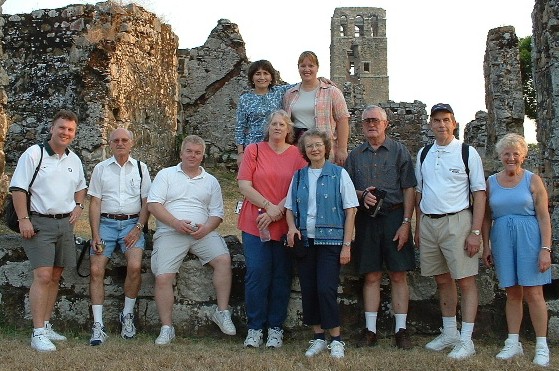 Yesterday the team from Portland Christian Center returned home after ministering in seven different settings from drug & gang-infested ghetto, to Teen Challenge centers, to transplanted Indian groups in the city, and to teaching English in church. Our thanks to their leader, Pastor Dale Sies, and to the other 9 members, for ministering with great heart and attitude, and for the many ministry and personal blessings.

One snapshot of many from this past week plus is of my former Bible School student, now a Pastor, Lucas Cerrud. (Without planning it, I bumped into 5 former Bible school students during the team's visit--great to see them faithful in ministry!) During our first phone call planning for t his visit, Pastor Lucas reminded me that I had written on his homework and tests, "you have to fill in the answer completely!" To be quite frank, schoolwork obviously wasn't his strong point.

Once at the church, speaking with the 150+ plus gathered from the small mountain community, I mentioned what Pastor Lucas had said to me. I had to laugh because the name of the church is "Jesus, the Answer"--and he had filled out that one completely!

For those of you who supported us financially last year, we sent our year-end thank you letter early last month. I only mention this in case you did not receive it yet--please let us know. Thanks.

We'd appreciate you joining us in prayer for a couple of needs we have: provision for an office for our Children's Ministry team and wisdom in deciding how to repair the bedroom air conditioner. It died after being repaired one month ago.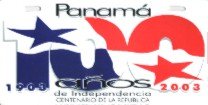 More "spiritual" type prayer requests are the following:

Plans for the Citywide Parade by Children's Ministry Committee for Panamá's 100th anniversary on 27 April.

Our secretary Dallis Quiñones is a cancer survivor, but has heard troubling reports of a potential recurrence. We're believing for confirmation of a complete healing.

I've been asked to teach World Religions in the new final year Bible school program. This new level is significant because it will allow students to receive a diploma recognized by the government's Ministry of Education. I'd like your prayer because it will require a lot of prep in a short time.

My request for prayer regarding Carnival brings to mind these words of Jesus:

"And that's not all. You will have complete and free access to God's kingdom, keys to open any and every door: no more barriers between heaven and earth, earth and heaven. A yes on earth is yes in heaven. A no on earth is no in heaven." Matthew 16.19, The Message

Let our final words be thanking you for your prayers, finances and support in so many different ways. God bless you. Yours for Them,

Kirk for all